Current Issue
Crossroads
The Legacy of the Janscos

Story By R.A. Dyer

It was in a nothing poolroom 300 miles from nowhere, a nothing poolroom with concrete walls, bleachers and overshot with the mingled odors of beer, cigarettes and desperation. For respectable pool players, the 1961 tournament at Johnston City's too-hopefully named "Show Bar" must have felt like the end of hope, a tournament where players not only come to lose, but go to hide.

But perceptions deceive.

In November, the brothers who built that middle-of-nowhere beer shed, who gradually expanded it into a grander venue for pool competition and who shepherded that competition into the national spotlight will be honored with induction into the Billiard Congress of America Hall of Fame. But beyond producing the legendary Hustlers All-Around Championships, these brothers, George and Joe "Paulie" Jansco — from their little corner of southern Illinois — transformed our sport.

Johnston City did not mark the end for pool but a beginning. Far from concealing its players, the pioneering Jansco Brothers, with their riotous, chaotic, joyous tournaments, brought them before national TV audiences. The honor of induction into the BCA Hall of Fame, the highest conferred by our sport, is well deserved and has been a long time coming. It's been 50 years since George's death. Paulie died in 1997.

The Jansco Brothers' glorious Johnston City tournaments lasted justly slightly more than a decade. The first, in 1961, attracted 14 players and almost no spectators. The later ones took on the aspect of three-ring circuses. Hustlers, tournament players, the media and the public descended upon Johnston City throughout the 1960s, a decade that corresponded with a burgeoning pool renaissance the Janscos helped foment and define.

Do the Jansco Brothers still matter? Absolutely. And the reasons are many. George and Paulie helped put one-pocket and 9-ball on the map. They helped bring Rudolf Wanderone — AKA Minnesota Fats, still one of the most well-known personalities in pool — to the world's attention. With the inclusion of Javanley "Youngblood" Washington in 1962 and Cisero Murphy and other African American players a year later, the Janscos can claim to have hosted some of the first truly integrated national-class pool tournaments. And significantly — and perhaps most controversially even today — the Janscos were the first important promoters to publicly embrace the sport's culture of gambling.



Paulie (left) and George Jansco made important contributions to pool through the Johnston City Hustlers Jamboree.

"I am so happy about this," JoAnn McNeal, George Jansco's daughter, told me during a recent discussion about her father's Hall of Fame induction. JoAnn was there during the 1960s, helping run the tournaments. She knew then and knows now they were special. "I thought this needed to happen," she said. "It took some time (to receive the nod from the BCA) but what my father did was great. He helped put pool back on the map."

Mallory Daugherty, Paulie Jansco's granddaughter, said she couldn't be happier. "I think it's amazing," she said.

George and Paulie grew up on a small farm in Herrin, Ill., about seven miles from Johnston City. George was born in 1915. Paulie came along three years later. Their parents were Hungarian immigrants and their father a bootlegger by trade.

At age 17, Georgie began playing shortstop for a minor league baseball team from Fort Worth. He eventually married his childhood sweetheart, Sadie Lokotich, and they had two children, JoAnn and Jan. George operated for many years as a bookie in nearby Evansville, Ind., and with his earnings he purchased a roadside bar, Johnston City's J&J Ranch, as well as a sizable tract of land.

Paulie served in World War II, in the U.S. Army Air Force, and upon his discharge married his sweetheart, Jean Cantine. The couple had two children, both now deceased. Paulie was a top-notch amateur golfer, a member of the local Knights of Columbus and — according to a granddaughter — his favorite food was french fries. He also was the owner of the Show Bar, which the brothers expanded and used for the tournaments.

In 1961 the Jansco Brothers hosted the first of them, a one-pocket event. It ran Oct. 25 through Nov. 15, not long after the Hollywood release of The Hustler. The tournament featured (among others) eventual BCA Hall of Famers Boston Shorty, "Cowboy" Jimmy Moore, Eddie "the Knoxville Bear" Taylor and Wanderone. The Janscos put up $5,000 in prize money and oversaw the construction of a $25,000 building with bleachers. Connecticut's Johnny Vevis won, with Jimmy Moore placing second and Hubert Cokes placing third.

But what made that 1961 tournament significant was not the Johnny Vevis victory. Nor was it the prize money. Rather, what made that first tournament significant was the colorful atmosphere, the characters who participated in it and that a newspaper reporter named Tom Fox showed up to document everything. Almost on a lark, Fox drove out with fellow journalist Karen Fox, his then-girlfriend, and several of their colleagues from the Evansville Courier and Press.

"When Tom started going over there, he took a bunch of us the 90 miles from Evansville," said Karen, who later married the now-deceased writer. "It was a drive … and we couldn't believe (upon arriving) that out in the middle of nowhere, in southern Illinois, there were all these incredible pool players. We got to see it first-hand. They had this really good tournament room, with good acoustics, and bleachers in the back. There was a concrete block room where, after the tournament was over, they were heavy-duty gambling."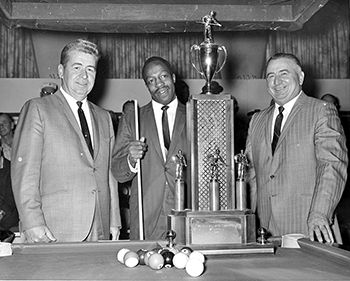 The Janscos' "World Tournament" was the first to welcome African-American players, like Cisero Murphy.

Fox recognized that what he was witnessing deserved more than just local sports coverage — "(he) knew it was a national story," said Karen. And so, he pitched the story to Sports Illustrated. What he proposed, however, was not so much a story about the tournament itself, but rather about the colorful Damon Runyon-types there. The result was Fox's seminal "Hustler's Holiday in the Lion's Den," which appeared in the magazine's Dec. 4, 1961 edition.

Here's an excerpt:

The spokesman for the Loyal Fraternal Order of Pool Sharks was a roly-poly 250-pounder called New York Fats (Rudolf Wanderone) who thrives on high stakes and egotism but lives not in shadows nor speaks in whispers. Fat Man is short (5 feet 8), with a shock of brown hair, a 52-inch waist and a philosophy to fit all occasions. He announced that the Johnston City promotion drew 14 of the "best one-pocket players in the world," and added modestly that he was once the best of the best.

"I was automatic champion one-pocket player of the world," Fat Man proclaimed. "They never had any tournaments. I always had to give great odds, most of the time two balls. The great champions would never play me. They dodged me at all times.

The hustlers listened when the Fat Man talked. They laughed and poked fun at him. But when an outsider asked questions about the hustlers, they let the Fat Man do the talking. He's the sharks' public relations man.

Now Fat Man is matched with Tuscaloosa Squirrelly, and he is getting the shots. "Well, if I'm a has-been, I'm certainly glad I'm not one of these is-beens," Fat man says, as he wins the match three games to none. (Squirrel got a total of three shots, two of them breaks.) . . .

"Look at Fatty," whispers Johnnie Irish (Johnnie Lineen, 47, Miami and Brooklyn). "He wouldn't hurt a miller moth, but he'll leave you without a shirt playing pool. I know Fats all my life. I've seen him come into a town that looked like a desert, nobody at the pool hall. In two days, Fats had the place packed. He starts playing for $2 a game and pretty soon he's got the butcher and the baker playing $100 a game and they never saw a pool table before. If there's 100 people in town, Fatty had all 100 at the pool hall. Then he leaves and it's a desert town again.

Fats is a hustler's hustler."

Without Fox's Sports Illustrated article, the later Johnston City tournaments may never have occurred at all. Or if they had, they likely would have gone unnoticed to outsiders, like the proverbial tree falling in the proverbial forest. But spurred by Fox's article, other reporters came to later tournaments, including reporters from the big TV networks. After 1961, the Jansco Brothers attracted the sort of media attention today's promoters only can dream about. And the tournaments grew. Starting with 14 players in 1961, within a few years the brothers were hosting 50 competitors and then more than 80. In 1964, the Janscos constructed a new tournament arena, a 4,000-square-foot concrete structure with a sunken floor that cost more than $60,000. Later, the Janscos expanded to Las Vegas with their big time Stardust Open, then the richest tournaments in American pool.

"What he and George did was amazing," said Mallory Daugherty, Paulie's granddaughter. "In high school I wrote a speech about the Jansco Brothers, and I learned a lot about their history and about billiards. I thought it was super cool. I could mention them (around town) and people would say, 'I know who they are.' Growing up, I thought it was so neat that they were so well known. People know about the Janscos, pretty much anybody that I know who is a pool player knows about them."

The selection of the Janscos for the BCA Hall of Fame is absolutely merited. It is not, however, without controversy. Detractors have grumbled about the gambling, noting that it potentially undermines the dignity of professional sports. And the Janscos, without a doubt, supported and celebrated gamblers. They were, in fact, the first major American pool promoters to do so in such a public fashion. They made absolutely no apologies about this. Not only did the Janscos permit after-hours action in the practice room, they eventually came to leverage the mystique surrounding that action for marketing purposes.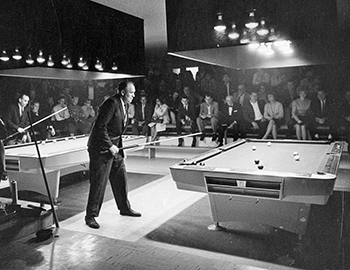 After the first event, the Janscos added a 4,000-square foot arena, replete with a sunken floor.

But understand: Gambling in pool is nothing new, and gambling's relationship to the sport is not like its relationship with other sports. As historian Mike Shamos and others have observed, no other human-centric sport is more closely associated with wagering than pool. This association has persisted from the sport's very beginning in America and extends even to earlier times in Europe. Major players throughout history gambled at pool, made their livings at it. Even the champions. And it is this aspect of our sport's history that many in the public find so fascinating. Pool isn't croquet. The genius of the Janscos is that far from running from this truth, they recognized it and they used it.

The Janscos enforced a dress code within the tournament room — they did see the need for some modicum of decorum — but they also happily sweated the no-holds-barred action every night in the backroom. They didn't at first describe their events as hustlers' competitions, but neither did they object when reporters described them in that way. And it was the kaleidoscopic atmosphere of the betting, the run-amok cash swapping and cursing, the green-felt dangerous drama — it was these things that attracted Tom Fox, of Sports Illustrated, and that eventually drew the biggest of big-time media heavy hitters, ABC's Wide World of Sports.

Steve Booth, founder of the One-Pocket.org website that welcomed the Janscos into its Hall of Fame back in 2007, has observed that the Johnston City events were the first to marry pool's opposing sides. "If you think about pool, it always had these two faces," he told me a few years back. "It has had the clean image and it has the gambling and the hustling image. They're both real, and they both have their own following. What was so significant about Johnston City was that (the tournaments) brought those two elements together. They coexisted. They thrived. And they attracted huge media attention. … This is why they were so significant."

But for other reasons the Janscos contributions are important.

• By including African American player Javanley "Youngblood" Washington in 1962 and African American players Cisero Murphy, George "Rotation Slim" Harrison and Robert "Rags" Woods in 1963*, the Janscos took a big step forward toward racially integrating professional pool. Murphy's appearance in 1963 predates by two years his appearance at the Burbank World Invitational, which the Hall of Famer won. It also predates his first appearance at the officially sanctioned Billiard Room Proprietors Association of America tournament in New York City. The BRPAA event earlier had been picketed by civil rights activists.

• The Janscos sponsored some of the earliest high-profile tournaments to prominently feature 9-ball. Before the Janscos' tournaments, the only pool events that ever made it onto TV were 14.1 contests. In the years since, it's been 9-ball and only 9-ball. The Janscos even changed the 9-ball rules to better comport with TV. The one foul ball-in-hand rule? That's all George and Paulie Jansco.

• They were the first promoters to elevate one-pocket from a "hustler's gimmick" (as Willie Mosconi once called it) into a bona fide tournament game. Although the Janscos eventually added other games to their tournaments, they especially nurtured one-pocket and created what was, in effect, the first national one-pocket championship. In this way we also can think of Johnston City as precursors to Greg Sullivan's Derby City Classic.

• The Janscos bridged the old straight pool era to that of modern 9-ball. Always disdainful of straight pool, the Janscos became the first important promoters to heretically condemn it as too boring for TV. They included straight pool in their post-1961 Johnston City events, but only grudgingly so — and Paulie dropped it completely from the later Stardust tournaments.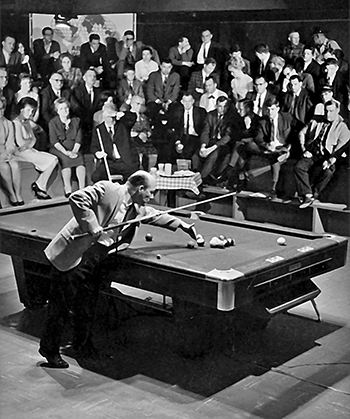 Johnston City finals were aired on TV.

Paulie took over management of the tournament after George's untimely death by stroke in 1969. It continued successfully for a while afterwards — albeit with diminishing media coverage — but then in 1972 it all came crashing down. A man was shot dead at the Show Bar in early October, and then federal agents mounted a major gambling raid there 18 days later. Police arrested several of the gathered hustlers and scattered the others. Handguns were found stashed in the bleachers and a trash can. Hubert Cokes avoided jail time by paying a $500 cash bond on the spot. Paulie was issued a warrant for holding bets.

Wanderone dismissed the entire affair with a wave of his fat hand. "I can't see why they are making such a big stink out of it," he reportedly told a grand jury shortly afterwards. "It (this raid) is the most ridiculous thing you ever heard of. There's gambling everywhere on earth, you understand. Those kinds of things happen every day."

But the damage was done. The raid, the shooting, the temporary suspension of Paulie's liquor license — all of it effectively killed the Johnston City Hustler Jamborees.

But the raid did not, could not, kill the Janscos' legacy. Through the current popularity of 9-ball, through the establishment of one-pocket as a tournament game, through our sport's still changing attitudes toward gamblers and gambling, the Jansco Brothers live on.

* "Southern Illinoisan Sports Talk," Merle Jones, Southern Illinoisan, Oct. 21, 1963