Headstring News
Kim Tops WPBA at Colorado Classic
Oct 1, 2008, 4:44 PM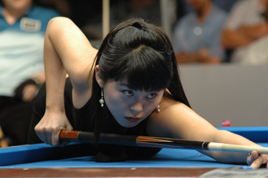 Kim won her second straight event with an easy 7-3 win over Kelly Fisher.
Jumping up to the top spot with her win at August's U.S. Open, Kim celebrated by going back to back. At the Colorado Classic — held this past weekend at the Sky Ute Casino & Resort in Ignacio, Colo. — the two-time world champion dominated the late rounds, posting a 7-4 win over Xiaoting Pan in the semifinal and a 7-3 win over last year's No. 1 Kelly Fisher in the final.

With her second win in as many events, Kim has established herself as the woman to beat in the race for the year-end points title. On top of her two victories, she's also finished second and fifth, leaving her in good shape with just two events remaining.

In Colorado, Kim was in command from the start, whitewashing Tina Hess, 9-0. Her only real challenge on the way to the TV rounds was in the quarterfinals, where she met Yu Ram Cha. Cha, who won the Galveston World Classic 9-ball crown just two days before the Colorado Classic, pushed Kim to the limit before falling to a 9-7 defeat.

Kim then caught a gear in the semifinal against China's Pan. With a finely tuned break, Kim got out from the break three times, while her safety play and shotmaking earned her the other four racks.

The final against Fisher was more of the same. Kim made the most of her breaks, while taking what few opportunities Fisher gave her. With a 5-2 lead, Kim ran out from the break to get on the hill. After losing a safety battle, Kim again broke and ran to clinch her second title of the season.