Headstring News
The Action Report: Mills vs. Van Boening
Oct 28, 2009, 11:31 AM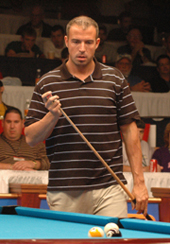 Mills (above) will be riding a wave of confidence after a strong performance at last week's U.S. Open.
Three weeks removed from a strong run to third place at the U.S. Open, Donny Mills will be back at the table, this time facing the man who won the title in Chesapeake in 2007.

In a race-to-100 match organized and promoted by The Action Report, Mills will take on Shane Van Boening at the Crooked Cue in Clearwater, Fla., Mills' hometown. The game will be 9-ball, break from the box with the winner racking. While Mills showed he could keep up with the world's best in the U.S. Open's loser-racks format, he is considered even tougher in rack-your-own.

Van Boening, meanwhile, has one of the world's best 9-ball breaks, which could be a crucial tool to keep Mills in his seat.

The match kicks off on Sunday, Nov. 7, at 6 p.m. (EST) and will continue until one player has reached 50 wins. Play will resume at 6 p.m. the next night, continuing until one player reaches 100 total wins and takes the winner-take-all purse of $10,000.

The match will be available to watch live on a pay-per-view basis at www.theactionreport.com . This event will feature four-camera coverage with live on-screen scoring and commentary. The price to view online will be $25 for the entire match or $20 for the final day only.