Headstring News
DCC 9-Ball Down to Final Four
Jan 29, 2011, 4:44 PM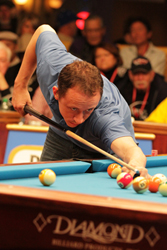 Van Boening (above) Feijen for a spot in the 9-ball final - and the $20K all-around award. (Photo by Dave Thomson-mediumpool.com)
ELIZABETH, Ind. -- Shane Van Boening, the reigning champion in the 9-ball division at the Derby City Classic, has more on his mind than defending his title. After winning the one-pocket division on Thursday evening, the 27-year-old has advanced to the final four in 9-ball, putting him within one victory of clinching the Master of the Table.

By mid-afternoon Saturday, the $20,000 all-around crown — awarded to the player who accumulates the most points in the 9-ball banks, one-pocket and 9-ball divisions — looked to be Alex Pagulayan's. But Pagulayan, who finished first in banks and third in one-pocket, was eliminated by Mika Immonen. Finishing in 14th place, Pagulayan will win the Master of the Table if Van Boening fails to advance to the 9-ball final.

Currently, four players (all of whom have exercised their buy-backs) remain, effectively turning the next round into the semifinals. Under the lights of the Accu-Stats Arena, Van Boening will face Niels Feijen, who eked out a hard-fought 7-6 win over Johnathan Pinegar. Dennis Orcollo will face Immonen in the other race to 7.

While Van Boening captured last year's 9-ball title, Feijen (2007) and Immonen (2002) also have tasted victory at the Derby City, leaving Orcollo as the lone player chasing his first DCC 9-Ball crown.