Headstring News
DCC 9-Ball: Alex Roars in Final
Feb 5, 2013, 9:35 AM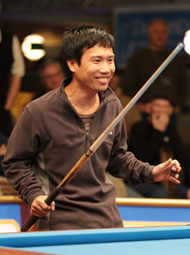 Pagulayan was all smiles after taking the 9-ball title. (Photo by David Thomson-mediumpool.com)
With three players left in the Derby City Classic's 9-ball division, Shawn Putnam caught a bit of a break when he received the bye into the final, leaving Mike Dechaine and Alex Pagulayan to play in a de facto semifinal, with both players already having exercised their buy-back options.

Dechaine, fresh off a dominant 9-2 victory over Shane Van Boening, kept pace with Pagulayan. With the 9-ball event extending races to nine racks, a change to meet BCA-mandated specifications for points events, Pagulayan and Dechaine met on the hill, 8-8. Following an exchange of safeties, the Filipino hit a table-length kick on the 1 ball on his way out, securing his spot alongside Putnam.

And while Putnam kept pace with Pagulayan, the Lion proved too much for the 41-year-old American. After Putnam closed to within a rack at 7-6, Pagulayan forced his opponent to foul in each of the next two racks to take the $16,000 title by a final count of 9-6.

With that victory, Pagualayn capped the 15th Derby City Classic where the majority of the big prizes went to the always-formidable Filipino contingent. Francisco Bustamante, winner of the banks division and runner-up to Corey Deuel in one-pocket, took home the $20,000 Master of the Table all-around award. Dennis Orcollo, meanwhile, snapped off the Bigfoot 10-Ball Challenge to pocket the $20,000 first prize.