Headstring News
Daulton Triumphs at Derby City
Jan 13, 2003, 12:33 PM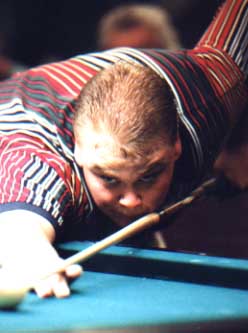 Shannon "The Cannon" Daulton shot his way through the competition at Derby City
The wild and woolly Derby City Classic drew to a close in the wee hours of Sunday morning as Shannon Daulton put a halt to a surprising run by Max Eberle by rattling off seven straight games to win the 9-ball competition, 7-3.

Earlier in the 9-day tournament, held in Louisville, Ky., Jose Parica defeated Larry Nevel in the One-Pocket competition, and Danny Harriman (voted BD's Most Improved Player of 2002) took the 9-Ball Bank Pool title by besting Steve McAninch.

Nevel proved to be the iron man of the grueling event, winning the all-around title by virtue of his second-place finish in one-pocket and third-place finish in 9-ball banks.