Headstring News
World Leaders Gather for Vegas Summit
Jun 13, 2007, 11:03 AM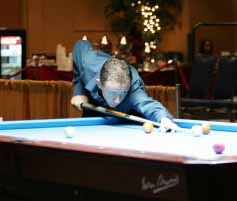 Van Boening aims to stay hot.
The cavalcade of summer events in the desert heat of Las Vegas continues. On Wednesday morning, the World Summit of Pool kicks off at the Riviera Hotel and Casino and runs through Sunday, June 17.

Held alongside the ACS National Championship, the World Summit boasts a 64-player bracket with many top players sprinkled throughout.

The attendance of top international players is mixed. Canadian Tyler Edey is the only World Pool Masters participant in the field. Regardless, the Filipino contingent is strong, with headliners Francisco Bustamante and Warren Kiamco.

The double-elimination bracket features first-round highlights of Mike Davis vs. Jeremy Jones and former 9-ball world champion Alex Pagulayan vs. U.S. Open champ John Schmidt.

Suddenly finding himself in the spotlight, Shane Van Boening, winner of the 10-Ball World Championship in May, will kick off his tournament against Danny Petralba.