Headstring News
The Lion proves king of the Summit in Vegas
Jun 18, 2007, 10:49 AM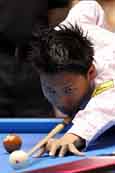 Pagulayan ran out to seal his victory. (Photo by Rick Roa)
Losing to Shane Van Boening in the hot-seat match of the World Summit of Pool, Alex Pagulayan could have accepted the fact that Van Boening was simply on a tear. The recent EnjyoPool.com runner-up and 10-Ball World Champion eased his way through the bracket, finally beating Pagulayan, 11-4, in the winners-side final.

But there is a reason Pagulayan is known as "the Lion." He outlasted Francisco Bustamante in the loser-side final, then handled Van Boening, 7-5, in the tournament final.

The World Summit of Pool, held at the Riviera Hotel and Casino from June 13-16, coincided with the ACS National Championships that run through June 19.

The standard double-elimination tournament featured a 64-player bracket with established world champions alongside young guns hungry for top-flight competition.

In the semifinals of the winners bracket, Pagulayan pounded Bustamante, 11-3, while Van Boening topped Warren Kiamco, 11-7.

On the left side, the two Filipinos advanced to set up a rematch in the left-side semifinal. This being the first televised match, the format was shortened to race-to-7 sets.

Bustamante edged Kiamco, 7-4, then faced Pagulayan with a final birth at stake. Though both men appeared carefree and affable, but things became serious for the Lion when he took the last to racks, setting up a rematch with Van Boening.

Pagulayan broke his way to a 5-2 lead, but Van Boening took the next three to tie things up, 5-5. In the 11th game, Van Boening scratched on his break, which would be the final shot of the tournament for the budding superstar. Pagulayan ran out the rack, then broke and ran to take the final, 7-5.

Pagulayan earned $12,000 for the win, with Van Boening taking home $5,000.