Headstring News
Guinness 9-Ball Finale in Progress in Bali
Aug 31, 2007, 1:24 PM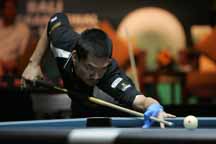 Alcano hopes to end the drought for the Philippines.
The first day of the three-day Guinness 9-Ball Tour Grand Championship is in the books. The finale — held Aug. 31 to Sept. 2 at the Grand Hyatt Hotel — has a total purse of $70,000, with $36,000 going to the champion.

The tour's final stop consists of the 10 highest ranked players after five events throughout Asia. The format, a bit different from earlier events, splits the men into two groups of five for round-robin play. The top two from each pool then advance to the single-elimination, race-to-11 semifinals.

Winning all five tour events, the Taiwanese contingent — consisting of Chang Jung-Lin, Chao Fong-Pang, Wu Chia-Ching and Yang Ching-Shun — has performed well in the first day of competition. Former world 9-ball champion Wu won both his matches, as did Chang.

Ronnie Alcano and Lee Van Corteza, representing the Philippines, split their matches, leaving some work to be done to advance.

The remainder of round-robin matches will be played on Saturday, with the two semifinal and final events being held on Sunday.