Current Issue
Next Page >
Handle With Care
While the Black Widow packs up and moves to Florida, Jeanette Lee - with husband, George Breedlove - prepares for the delicate delivery of the couple's first child by natural birth. (Photo by Drew Endicott)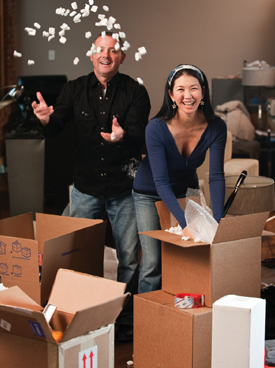 IT NEVER really sounded right. The Black Widow - pool's most glamorous personality, the biggest star the sport has seen since Minnesota Fats - lived in ... the middle of Indiana?

A loft in Manhattan maybe. Or Southern California. Or anywhere besides a little town on the outskirts of Indianapolis.

If you look a little closer, though, it starts to make sense. The slice of middle America that has been home to Black Widow Enterprises for 14 years is a perfectly normal spot to find Jeanette Lee - mother of five with a sixth on the way.

But pregnant and expecting to deliver her first child by natural birth in the fall, she's trading in the quite Midwestern life, which she shares with husband, George Breedlove, for the fun and sun - and business opportunities - of Tampa, Florida. The move has begun, the boxes are being packed and the wheels are fully in motion to move headquarters down south. But all the while, Lee, who has a history of physical issues relating to scoliosis, will be dealing with what could be a painful pregnancy.