Current Issue
Two for the Show
Team USA's gritty effort in Las Vegas produced a second straight Mosconi Cup win.

By Mike Panozzo
Photos By JP Parmentier
Technically, the decisive shot of the riveting and raucous 26th Mosconi Cup on Thanksgiving Day at the Mandalay Bay Convention Center in Las Vegas was struck by the event's Most Valuable Player, Skyler Woodward of Team USA. It was a hanging 5-9 combination into the side pocket of the sparkling Rasson table, a shot that clinched an 11-8 win for the Americans and sent Woodward, his teammates and coaches, and a vast majority of the sell-out crowd of 1,700 into flag-waving hysterics.

In reality, however, the knockout punch was delivered six days earlier in front of a single camera in a small room in the bowels of the convention center. At a table sat three people — Team USA captain Johan Ruysink, Team Europe captain Marcus Chamat and Matchroom commentator and former Mosconi Cup player Karl Boyes. The pre-event interview was titled "Face Off," and featured Boyes throwing out questions to the captains, who were seated facing one another.

Both captains knew going in that the purpose of the interview was to help hype the highly anticipated "Repeat or Revenge" 2020 Cup. It was staged to be a stare down, with an occasional playful barb expected from each captain.

Instead, a stone-faced Ruysink delivered one haymaker after the next, clearly catching Chamat off guard and sending the emotional and amiable Swede reeling through nine-plus minutes of torture.

"Did your team win last year, or did Team Europe lose?" Ruysink was asked.

"We won," the storied Dutch coach snapped, his head never moving and his eyes piercing Chamat from close range.

"And we are more ready this year than last year," Ruysink added. "There are no question marks with this team."

When asked if the U.S. squad had been upgraded with the addition of veteran Justin Bergman to 2018 Cup winners Woodward, Shane Van Boening, Billy Thorpe and Tyler Styer, a rattled Chamat attempted to jokingly express a lack of awareness of the American's existence.

"Who is Justin Bergman?" he tried to deadpan. "I don't know him."

"That's because you don't pay attention," Ruysink fired back. "You don't even pay attention to your own players."

Even Boyes seemed surprised by the relentlessness of Ruysink's attack. "I didn't think they would get too involved," said Boyes. "But Johan let it rip. And he 100 percent rattled Marcus."

In addition to making for entertaining viewing on the Mosconi Cup stream, the head-to-head captains' debate was telling in many ways. From questioning Chamat's player selections ("No way I would have left Albin [Ouschan] off my team.") to dismissing Team Europe's toughness ("I don't see any fight in this European team."), Ruysink set the tone for his squad's approach to the 2020 Cup and set the table for Team USA's second straight win after eight consecutive losses in the annual transatlantic team event.

"I was never going to ask Marcus to marry me anyway," said Ruysink when asked if he thought he had been a little tough on his European counterpart. The message was clear: There's a new bully on the block.

From the "Face Off" to the full team pre-tournament press conference and through the four days of compelling action, Team USA strutted through the 26th edition of pool's biggest event with a swagger not seen since the glory days of Earl Strickland, Johnny Archer and American dominance. It was the same swagger Team Europe, reveling in a constant chorus of "We're Europe, we do what we want!", possessed during its run of 10 wins in 11 years from 2007-2017. (Six of those wins coming with Ruysink at the European helm.) It was toughness, confidence and determination. It was belief, trust and intensity. And it marked a startling reversal of the culture that pervaded U.S. pool just three years ago.

To a player, Team USA was convinced that the highly touted Europeans — led by World No.1 Joshua Filler and International 9-Ball Open champion Jayson Shaw, and joined by four-time Mosconi MVP Niels Feijen, Albanian Klenti Kaci and Greece's Alex Kazakis — were underdogs, despite the fact that United Kingdom betting lines insisted differently. (Some had Team Europe as a 2-to-1 favorite.)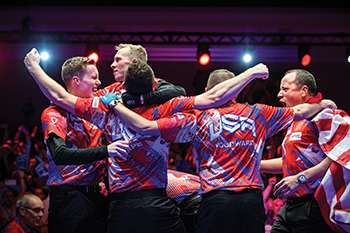 Team USA (l-r, Tyler Styer, Justin Bergman, Billy Thorpe, Skyler Woodward and Shane Van Boening) had plenty to celebrate in Las Vegas.

"There's no pressure this year," Woodward said matter-of-factly at the full teams press conference the day prior to the event's kickoff. "We're just gonna rob 'em."

The posturing and war of words added even more spice to pool's highest profile event, which promoter Matchroom Multi Sport now begins hyping just days after the previous year's event concludes. That yearlong buildup has catapulted the Mosconi Cup to record attendance levels in each of the last six years, since the event first topped the 1,000-attendance mark at Tower Circus in Blackpool, England, in 2014.

And while the U.S. still lags behind the U.K. in annual attendance (the 2018 Mosconi Cup at Alexandra Palace in London drew 2,500 fans to each session, with the 2020 edition slated for 3,000 seats), the sold-out 1,700-seat arena at Mandalay Bay (which overlapped one of the country's biggest holidays) produced by far the loudest and most one-sided pro-American crowd in Mosconi history. (In 26 years, the Mosconi Cup has been competed in the U.S. just nine times, starting in 2003.)

Still, Team USA had not won in the U.S. since 2009, and Ruysink and his charges faced challenges on the heels of their shocking 11-9 win in London in 2018.

For starters, Matchroom, concerned with the one-sided direction of the Cup and the listless efforts of Team USA over the previous eight years, afforded the Yanks the "Gucci treatment" in 2018. The team was provided with the means and opportunity to, at the very least, be competitive in London. With the benefit of multiple training camps and competitive test runs subsidized in part by Matchroom, Ruysink and his vice-captain Jeremy Jones had the team prepared for a legitimate run at the Cup. The U.S. high command had the team on lock-down the week before and all during the event. The us-against-the-world strategy paid off with a spirited and focused performance.

But Ruysink and Jones knew that the road to victory in 2019 would be significantly bumpier.

For starters, preparation opportunities were fewer. Last-minute addition Justin Bergman had little prep time with his teammates. Additionally, the 2019 Cup was in Las Vegas, assuring attendance by families and friends of the players and creating numerous built-in distractions. Ruysink and Jones were also concerned about the likelihood of their players being able to repeat their level of play from 2018.

"I was nervous this year," Ruysink admitted. "We knew that it would be hard for them to play as well as they did last year. Anytime you have a historic win like that, it's hard to have that same focus the next time. Also, being in Vegas with family made things tricky," he added. "I relied a lot on Jeremy in that department. He can talk to the players.

"I learned a lot from the first two years about the culture of the American player," Ruysink added. "The first year I let them do things the American way and it was a disaster. Last year I made them do it my way. This year was a mix. I can't change who they are. I gave them more freedom. They needed to be disciplined on their own. Once the matches started, however, we were either practicing, eating together or up in our room."

Chamat, on the other hand, herded his squad to Los Angeles for some practice time and team bonding the week prior to the Cup.

Ruysink's concerns were alleviated right out of the gate once play commenced.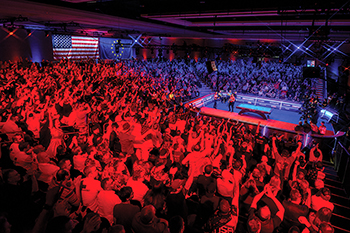 More than 1,700 fans filled out the sold-out arena in Las Vegas, making it the largest-ever crowd for a Mosconi Cup staged in the U.S.



Day One

As has been tradition since 2006, the opening match in the first five-match block featured team play, with each player from both sides playing at least one game in the race-to-five format. In 14 years, Team USA has managed to capture the team match exactly five times, the last time being in 2015.

With the pro-U.S. crowd making its presence felt from the player introductions, Team USA appeared loose and ready. Dutchman Feijen gave the Euros the first game, but the U.S. rattled off five straight, including a Woodward-Filler teaser, which saw the young German lose a safety battle on the 1 ball.

The Americans then brought the crowd to its feet with a scintillating 5-4 doubles win in the second match. The match was tied the maximum four times before Van Boening and Styer negotiated the final rack against Feijen and Kaci. Feijen offered a glimpse of what would be his worst week in Mosconi play when he missed a semi-long shot on the 1 ball in the case rack.

With a 2-0 lead, the Americans appeared poised to win the first day, always an important mental hurdle in the every-match-counts format.

The Europeans, however, had other ideas. They also had several favorable matchups.

Chamat trotted out his top two players for the opening day's singles match. Filler came out first, blazing to a 5-0 win over a luckless Thorpe, who saw the cue ball kicked in on consecutive breaks at the start of the alternate break match. Aside from pocketing three balls on the break in the final game, Thorpe failed to pocket a single ball.

The Filler-Thorpe match also set the tone for the USA vs Joshua Filler sentiment that festered over all four days. The easily excitable 22-year-old preened around the arena after virtually every game, making himself an easy target for criticism and booing by an unimpressed American crowd.

And if the Mosconi Cup has taught fans anything over the years, it is that "favorites" can have an "L" attached to their records at any time. Woodward and Bergman, longtime friends who had posted a spotless record in doubles play over three previous Mosconi Cups, faced off against Shaw and Kazakis, the latter best remembered for several critical mistakes in 2018's loss.

Instead, the Euros dominated from the start, rolling to a 5-1 victory and evening the team score at 2-2.

Closing out the first day, Shaw broke out to a 4-0 lead over Bergman, giving the Euros 14 of the last 15 racks. The 32-year-old native of southern Illinois battled back, trimmed the lead to 4-3, but Shaw's break and run sealed the deal, giving Team Europe a 3-2 overnight lead.

While Chamat considered the day an overall success, he also acknowledged that his counterpart's strategy caught him off guard.

"I'm happy," Chamat said. "I wanted to come out strong, and it could have been 4-1. But 3-2 is okay too. I was a little surprised by the U.S. strategy."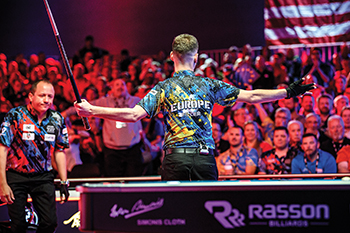 According to Ruysink, Filler was a constant momentum-killer, winning three singles matches.



For his part, Ruysink was confident that Chamat would play Filler and Shaw in singles on the opening day. His plan, he said, was to hold his top two — Woodward and Van Boening — for days two and three.

"I'm okay with being down 3-2," he said following the last match. "I had hopes for Justin and Sky in doubles, but we're okay. I decided to play for Day Two and Day Three. Everyone is jittery on the first day, so I want to get my best players in positions where they are loose and can play multiple matches. Our best lineups are still ahead."



Day Two

As Matchroom has grown the Mosconi Cup as an "experience," fan engagement has become an integral part of the event itself. In 2018, Matchroom introduced a "Fans' Choice" match, a match in which fan voting determines the first singles match on the second day. Because the Mosconi format incorporates some restrictions on how often and in what order a player can compete, the Fan's Choice match is essentially a freebie for the teams. In 2018, the fans pitted Van Boening against Shaw, with Shaw scoring a 5-2 win. In 2019, the fans voted to see Van Boening and Filler face off. The results were similar.

Like Thorpe, Van Boening saw his cue ball kicked in on the opening break and returned to the table trailing, 2-0. Through seven games, Filler had yet to miss a shot, playing at a 1.00 Total Performance Average (TPA). Trailing 3-0 and with the pressure mounting, Van Boening finally found an open rack after a dry break from Filler but rattled the 9 ball. Filler put a merciful end to a 5-1 beat down and strutted around the arena with his arms spread apart, nodding his head in self-approval.

Europe had opened a two-match advantage at 5-3 but, true to his strategy, Ruysink had prescribed a heavy dose of his top player on Day Two. Van Boening returned to the table to play doubles with Bergman and was scheduled to play singles in the finale of the five-match block.

The U.S. began its comeback with Van Boening and Bergman's crucial and convincing 5-1 win over the Euros' top pairing of Filler and Shaw. The American duo was firecracker hot, posting a .977 TPA in the match and narrowing the overall gap to 4-3.

"That's a huge point," said Bergman later. "We couldn't go down 5-2. We had to win that."

Kaci, rebounding from a shaky debut in the 2018 Cup, delivered a 5-1 verdict against error-prone Styer, who never looked comfortable during the four-day tournament.

Trailing 5-3, Team USA received another boost when Woodward and Thorpe steamrolled Kazakis and Feijen by yet another 5-1 margin. And Van Boening posted the fifth 5-1 verdict of the day against Kazakis.

Five identical one-sided matches had left the contest in a mouthwatering 5-5 tie. The Mosconi Cup was now a race to six.

"We knew today would be tough with Shane playing three times," Chamat conceded. "At this point, 5-5 feels like an honest scoreline."

"Things are going according to plan," said Ruysink, wearing a sly grin. "Two of three from Shane and a win from the Hillbillies [Woodward and Thorpe]. We still need to get one of those bonus wins from guys like Tyler and Billy. And I don't feel like Lady Luck has found us yet."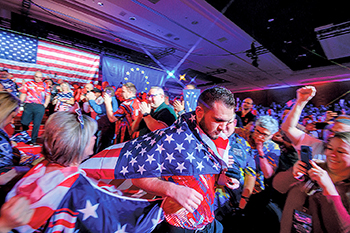 Thorpe was all business against Shaw, who seemed out of sorts in the critical final-day match.





Day Three

On the final day of singles and doubles matches (three doubles and two singles), Ruysink's master plan hit high gear. Just as he had a year earlier, Ruysink went all in on Skyler Woodward on Day Three, sending his 2018 MVP out for three consecutive matches.

Taking full advantage of what he later called a "free match," Ruysink opened the day with Woodward and Van Boening teaming up against Filler and Kaci. The powerhouse American duo fired at will, opening a 4-1 lead and limiting the powerful Filler to just five total trips to the table. A long jump shot by Van Boening to pocket the 1 ball in the next game brought the crowd to its feet and led Team USA to a 5-1 win and a one-match lead.

Woodward remained at the table to face the struggling Feijen, and the American bolted to a 2-0 win. He appeared to be en route to a 3-0 advantage but missed the 9 ball. At 3-2, Woodward missed a 7 ball. Suddenly, the match was tied. But, in what turned out to be his final trip to the table, Feijen broke dry in the next game. Woodward ran that rack and the next to post a 5-3 win and push the U.S. to a 7-5 lead.

Again, Woodward left his cues at the edge of his arena chair for the following match, a doubles tilt with Styer against the pairing of Kaci and Kazakis. The Europeans rolled out to a seemingly safe 4-1 advantage, but the Americans fought back on the heels of back-to-back European dry breaks to tie the score at 4-4. The Euros took control of the table after Styer missed a difficult cut shot on the 1 ball, but the snakebitten Kazakis returned the favor by missing a relatively easy shot on the 3 ball. Woodward and Styer cleaned up the remainder of the rack to send Team USA to an 8-5 lead and the crowd into a frenzy.

"I told Tyler, 'Anything can happen. They won four in a row, why can't we?'" said Woodward, who for the second straight year won three matches in a single day.

When asked about the potential for a second MVP trophy, Woodward responded in typical American fashion.

"I don't care who is MVP," he said. "Let's just get the cash!"

Holding a three-game advantage, the U.S. sent out Van Boening to face Filler once again in singles play. The Europeans were well aware that a Filler loss and 9-5 deficit would spell disaster for their hopes.

The head-to-head matchup had all 1,700 fans on the edge of their seats, but Filler's amazing performance in singles continued with a deflating 5-0 win. Several uncharacteristic misses and positional errors by Van Boening made it easy sailing for the high-flying German.

But what the match lacked in competitive drama, it more than made up for in histrionics. By the second rack, Filler was baiting the U.S. fans by holding his index finger to his pursed lips after pocketing a ball. With a 4-0 lead and a straight shot on the 9, Filler called for his 35 second extension to milk the moment. And after sinking the match-clinching 9, Filler again spread his arms for the American fans.

High above the arena, on the oversized television monitors, a photo of Filler appeared with a crown Photoshopped on his head — a reference to Styer's having called Van Boening "the King" in London in 2018. A stunned Filler stared at the screens, his mouth agape, before jumping up and down and shouting, "Who's the king? I'm the king!" As he moved again in the direction of the American fan contingent, Ruysink stepped in his way and pointed him back to his own corner. Boos rained down on the German, who was lifted into his chair by Chamat to soak in the adoration of the European fans that filled that corner of the arena.

"I respect Shane as a player," Filler said. "But when I am in the arena there is no time for respect. Everybody said he is the king, but I had to show everybody that I am the king now."

Unlike so many matches in the 2019 edition of the Mosconi Cup, the final match of Day Three lived up to expectations. The difference between a 9-6 lead or an 8-7 lead for the Americans heading into the final day of competition was not lost on the coaches, players or fans.

"The difference between 9-6 and 8-7 has a big impact on my approach to our lineup for the final day," Chamat admitted.

Trailing 9-6 in 2018, Chamat was forced to front-load his lineup on the final day — all singles matches — for fear of losing the Cup with his best players still waiting to play. Trailing by a single match would afford him the luxury of setting his roster any way he wanted.

The final doubles match of the event pitted Bergman and Thorpe against Shaw and Feijen. The Americans seized leads of 3-0 and 4-2, but Thorpe missed a 1 ball in the side pocket with an open table. Feijen and Shaw eventually tied the match, setting up a dramatic case game.

Breaking in the final game, the Americans appeared to be on their way to victory until Thorpe left Bergman short on the 5 ball. Having to use a bridge, Bergman missed position to the 6 ball by a hair. Peeking out from behind the 9 ball, the 6 offered a slim chance for a cross-corner back, which is right in the wheelhouse of the banking expert from Ohio. True to form, Thorpe banked the ball in, but the cue ball sailed far up table, leaving Bergman with a long off-angle shot on the 7. The 7 missed the corner by a sizable margin and the Europeans ran out to steal the match and narrow the gap to 8-7.

"We still won the session, which is what you want to do" rationalized Ruysink. "We could have done better, but this doesn't change my lineup for tomorrow. I've had it set and we'll talk about it tonight."

"This is what you play for," said an ecstatic Chamat. "We'll see who can dig deep and come with it."

"I see us having a big advantage in the singles," Filler prophesied.



Day Four

Filler's confidence was not without justification. Team USA had outshot the Europeans on the final day just once in the previous decade, that being in 2012, when the Americans won three of five singles matches but still lost the Cup by an 11-9 margin. In 2018, the Americans won the first singles match, then proceeded to lose three straight before closing the door with Van Boening's Cup-clinching win. The trend was not lost on Ruysink.

"We need to learn from last year," Ruysink warned ahead of Day Four. "There were instances when we weren't ready to play. We have to improve every day."

The strategic chess game in lineup preparation would go a long way to determining which team would be favored in the home stretch. Leading by a match, Team USA could still afford to save its star players for later in the block. Could Chamat risk saving Filler for a later match, when three wins would push the U.S. to victory?

Ruysink and Jones set the U.S. lineup — Thorpe would lead off, followed by Styer. Van Boening would run third, with the red-hot Woodward fourth. Bergman was slated fifth, with a captain's pick waiting if the match went to 10-10.

The move was a departure from 2018, when Ruysink bookended his best players on the final day, playing Woodward first and Van Boening fifth. Of course, Team USA also held a three-match advantage going into Day Four and needed just those two wins to clinch.

"I didn't want to play Sky last again," Ruysink rationalized. "I knew Niels would be last for Europe and I know Niels. After not playing well earlier, I thought he might come with a perfect match. I liked Sky against Filler."

Chamat opted to send Shaw out first, followed by Kaci, Kazakis, Filler and Feijen. With Feijen struggling (his TPA over the first three days was an event-low .769), Chamat appeared to be hoping to win three of the first four matches to ensure a captain's pick match (which would surely be Filler) if Feijen couldn't close out the event.

"I had Marcus' lineup correct, only I thought he would start with Kaci and play Jayson second," said Ruysink later. "Getting that first point [to get us to nine] was important," said Ruysink. "So, I put my two most energetic players out first, Billy and Tyler."

Ruysink and Jones huddled with the team on Wednesday evening and rolled out the lineup. Ruysink's speech to his charges was short and simple.

"I told them that there is no more team on the last day," he said. "Everybody needs to play his best match for himself. It's like a regular tournament. Shane is out there by himself. Justin is out there alone. That's the mindset you have to have."

In keeping with that philosophy, Ruysink allowed the final two in his lineup — Woodward and Bergman — to sleep in, instructing them only to be in the practice room at 10:45 a.m., 15 minutes prior to the start of the day's action. Thorpe, Van Boening and Styer, on the other hand, were instructed to be in the practice room extra early.

"It was easy to get Billy ready for Day Four because of what happened [in the final doubles match on Day Three]," said Ruysink. "Yesterday, he got into the crowd too much. He was letting out too much energy. If you're extroverted, like Billy, you need to be introverted if you want to focus. Billy needs to calm down, not celebrate after every ball or every rack."

The tension in the arena was palpable when Thorpe and Shaw made their entrances. Two-thirds of the crowd was squarely behind the American squad and precious few of them were on hand in 2009, the last time Team USA raised the Cup on home soil. The sing-song, flag-waving European fans, a sideshow in and of themselves, cheered confidently for a final-day comeback.

Heeding Ruysink's advice, Thorpe, caped with an American flag, entered the arena a stolid presence — none of the fist-pumping, high-fiving outbursts the team's emotional leader had shown earlier.

Surprisingly, it was Shaw who looked tentative and uneasy in the first match. The Scot badly missed a 1-9 combination with ball in hand in the opening rack. Thorpe responded with one of his signature bank shots en route to a 1-0 lead. Shaw then had the misfortune of pocketing a ball while playing safe. He fouled on his escape attempt and Thorpe quickly held a 2-0 advantage.

Shaw rebounded, however, running out from his own break and from Thorpe's dry break to knot the match. Thorpe regained the lead after Shaw missed another combination attempt, but Thorpe was hooked following his next break shot and the match was tied again, 3-3.

Following a string of safeties, Shaw gained the advantage in the all-important seventh game. But he jarred a 3 ball up the long rail and Thorpe ran out to reach the hill. Breaking for the match, the still emotionless Thorpe found a wide-open table and carefully worked his way to the finish line. As the cue ball found perfect position for the case 9 ball, Thorpe finally unlocked his emotions, clenching his fists and striking a strongman pose for the U.S. contingent before depositing the ball that gave Team USA a critical win and a 9-7 lead.

"I went to bed last night thinking about this match," Thorpe said. "I had the opportunity to get the day started for the team and I was glad that I was trusted to be in that spot.

"You only get a few chances at Mosconi," he continued. "In gambling, you can just flip a coin and play again. There's so much pressure here. The team, the fans... they're all depending on you. And against Jayson, I knew I had to bring my A game."

"Maybe because it was the first match and it was early," Shaw said, "but I didn't feel 100 percent. I got unlucky playing safe and having a ball go in. From there it felt like I was chasing."

With Van Boening and Woodward still on tap, Team USA was within striking distance of its second consecutive Cup.

For the second time, Styer battled Kaci in singles and for the second time, Kaci was awarded numerous free trips to the table. Styer missed open shots in four different games (pocketing only the 9 in one game after Kaci rattled the final ball), as the Albanian concluded a stellar Cup effort (.858 TPA) with a 5-1 win to trim the U.S. lead to 8-7.

"I was never comfortable the whole week," the young American admitted.

"I think Tyler put too much pressure on himself," said Ruysink. "He expects a lot from himself."

In addition to keeping European hopes alive, Kaci's win assured the shaky Kazakis that he would not have to suffer the ignominy of sitting in the arena while the U.S. celebrated its victory, as he had in 2018.

And while Van Boening, clearly not at his best, gave the likeable Greek several opportunities in the penultimate match, the result never seemed to be in question. A Van Boening miss at 2-0 allowed Kazakis to battle back to a 2-2 tie. But the Greek scratched in the next game and suffered a dry break in the following and, suddenly, America's No. 1 was on the hill, 4-2.

With an open table, Van Boening rattled a long 3 ball, gifting another game. But Kazakis scratched on the ensuing break and Van Boening took Team USA to the hill with a 5-3 win. Despite not having performed at his best, Van Boening still managed to produce six points for Team USA in eight matches.

Team Europe needed to win the final two set matches to force a captain's pick decider, and they were poised to start the comeback with their seemingly untouchable ace, Filler.

But Sky Woodward had other plans. In fact, arriving at the team practice room shortly before the opening match, the confident Kentuckian boldly announced, "I woke up in dead stroke!"

"I told Johan at the start, 'I want to play Josh,'" Woodward said later. "I had a feeling I would be playing him today. I love the pressure. I was focused and ready to play."

After winning the lag, however, Woodward promptly came up dry on his opening break and Filler quickly seized a 1-0 advantage, continuing a trend of allowing the German sniper free reign at the table.





Woodward's final tap-in.



But Woodward beat Filler to the shot in the second game and ran out from the break in the third to take a 2-1 lead. Filler returned the favor, running out to tie the match. Another dry break by Woodward brought Filler to the table, but the 1 ball was hidden. Forced to battle for control of the table, something he had avoided in his first three singles matches, the impregnable Filler suddenly looked beatable. His kick-safe attempt left the 1 ball in the clear and Woodward mopped up for a 3-2 lead.

As he sat in his chair, waiting for the next rack, Woodward looked down at Ruysink, Jones, Van Boening and Thorpe, who were seated on a bench at the other end of the arena, smiled and winked.

A Filler dry break offered an open table, but Woodward missed position and was forced to attempt a long 6-8 combination, which he missed. The pressure mounting, Filler returned the favor by hooking himself on the 9, slamming his hand on the table in disgust. He kicked safe and ran out after Woodward missed a long bank attempt on the 7 ball. As Filler sat in his chair, Shaw approached, with the two engaged in a brief but animated discussion.

Unflustered, Woodward broke and picked his way through a tricky layout, which included a delicate 4-5 combination, to put the U.S. within a game of victory.

If Filler was impervious to the pressure, as he stated later, his trips to the table in the final rack suggested otherwise. A solid break offered him a clear shot at the 1, which bobbled before dropping. His shot at the 2 ball was even shakier, with the ball rattling off both points before barely plopping into the corner pocket. The poor hit, however, left him no clean shot on the 4 ball and he played safe. Woodward returned the safety, leaving the 4 just off the bottom rail and the cue ball near the top rail.

Filler's plan was to send the cue ball rail-first behind the 4, kicking it up table. The shot required left English. The English threw off the cue ball's path and it struck the 4 first, cutting it in the direction of the corner pocket. The cue ball caromed off the rail and bumped the 9 toward the side pocket.

As the entire arena held its collective breath, the 9 inched to the jaws of the pocket, where it stopped. Six inches away sat the 5 ball. The U.S. fans erupted, sensing a Cup-clinching combination, just as the 2018 event had ended.

Woodward, closing in on his sixth point in seven matches and back-to-back MVP honors, punched the 4 into the corner, drawing the cue ball back to the center of the table, in perfect alignment with the 5-9 combination.

The normally subdued 26-year-old father-to-be spun on his heels, pumping his fists to the delirious American fans and completely circling the table before exchanging high fives with teammates, all anxious to storm the castle. Woodward quickly bent over the shot and knocked it home, securing an impressive 11-8 triumph for Team USA.

As is tradition, Team USA mobbed its hero and climbed atop the arena table for a group hug. Several feet away, the members of Team Europe stood silently, Filler gazing on with watery eyes.

For the second straight year, Team USA had followed its coaches' orders to a tee, scoring three singles wins in four matches on the final day. And in the end, only Filler (with an event-high .935 TPA) had a higher performance average over the four days than the top four U.S. players — Woodward .889; Bergman .873; Van Boening .869; and Thorpe .859.

As the medals were handed out by Matchroom Chairman Barry Hearn, first to the runners-up, Filler was booed incessantly on his introduction. Each Team USA hero, of course, was showered with thunderous applause. Shane Van Boening danced. "I was ready to play," said Bergman. "But I had faith in Sky and knew he'd finish it off."

"Sheeeeeettt! It feels great," Woodward laughed, mimicking his on-camera comment following the team's 2018 victory.

"I knew if Sky could win two of the first three and get to the hill first, Josh's mindset would switch to playing not to lose," Ruysink said. "Being behind in that situation changes things. Josh played great on an open table but made several mistakes in tactical play.

"Still, he was playing great and he was always the one ruining our momentum," Ruysink added. "It hurt us in the next matches. I kept telling our players not to let his behavior get in their heads. You have to pressure him. But he kept getting ball in hand, and matches against him can go fast when that happens."

"Josh is a great player," admitted Van Boening. "He's been pretty much unstoppable. Even though I lost, it's a great experience playing him."

"We came here as a team and we leave here as a team," offered Chamat. "I'm really proud of these guys. We stood by each other the whole time. Josh put in a great performance. Without him, it wouldn't have been 11-8."

"I didn't feel any more pressure in the last match," Filler insisted. "I thought I played well, but Sky played better. It was also difficult watching my teammates losing with dry breaks."

"Give them credit," Shaw said. "They held their nerve at the end."

"The crowd really helped them," said Feijen, finishing his 14th appearance. "U.S. fans have reason to cheer now. There were many years when the crowd was almost totally quiet after the second day."

But this Team USA is different, and the fans seem to sense it. To a player, Team USA acted and sounded like one player carrying five cues, a radical difference from the five-players-five-cabs mentality that seemed pervasive over the past decade. For that, all credit was given to Ruysink and Jones, a formidable team in their own right.

"Team USA has really grown into the event and Johan's system," quipped noted pool journalist Ted Lerner. "Of course, none of his 'process' made sense to these country boys until Jeremy came along and translated it for them!"

"I have to say," said Van Boening, who had remained somewhat skeptical, "without Johan, we probably don't win."

"This was by far the hardest one to win," said Ruysink. "There was a lot of pressure here after winning last year. Last year we caught Europe a little off guard. This year they were prepared.

"And we couldn't have done this without Jeremy," he continued. "He is the perfect connection between me and the players. He has been in this arena as a player, which I haven't.

With two improbable wins under his belt and an 8-1-1 record in 10 Mosconi Cups, Ruysink was asked if he would accept an offer from Matchroom to captain Team USA again in 2020.

"I had a three-year plan," he started. "It was to make it close the first year, which didn't happen, and then win in the second and/or third year. I felt that unless something urgent happened, my job would be done.

"But I want to win again," he continued. "First, because Shane asked me to, and also because it sounds like Matchroom wants to create more equality in the selection system. I'd like to help set up the U.S. for the future."

Regardless of future coaching decisions, the Mosconi Cup is about the players and the 2019 edition ushered in a new era for Team USA, setting a new, higher bar for those who aspire to be part of the wildest and most intense ride in professional pool. Unthinkable just three years ago, the country's top young players are on a roll and putting a shine back on American pool.

"We have great chemistry, great friendship and an unbelievable team," said Van Boening, who has waited longest for these planets to align. Added the fiery Thorpe, "We're ready to go to London next year and make it three in a row."


---
Win the Tactical Battle, Win the War

Team USA captain Johan Ruysink has proven over 10 Mosconi Cups that he is a master coach, motivator and psychologist. One of the traits that make the Dutch-born captain successful in those areas is his attention to detail. Ruysink is constantly watching, analyzing and assessing. The coaching job that Ruysink and his American vice-captain Jeremy Jones did in putting Team USA in the best possible position to succeed at the 2019 Mosconi Cup was nothing short of masterful. Their underdog squad surprised Team Europe for the second straight year, actually improving their margin of victory at the recent event in Las Vegas.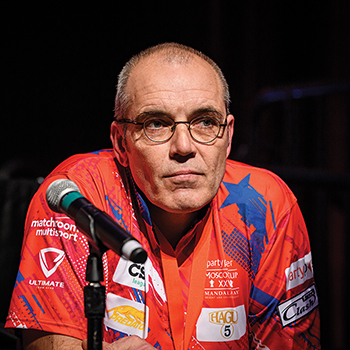 Ruysink had all the answers in a masterful 2019 Cup captaincy.



Ruysink and Jones outcoached their European counterpart, Marcus Chamat, at every turn — in preparation and in matchups. But the most glaring area in which the American captain schooled Team Europe's leader was in his deft maneuvering through Matchroom's tricky tournament format.

The mixture of teams, singles and doubles matches during the four five-match blocks had numerous restrictions to ensure fairly equal representation from each player. For instance, following the opening team match, in which all players participate, the schedule called for two doubles matches and a singles match. Each of the five players could only compete once in those three matches. And the player for the day's final singles match could not be the same player that played in the first singles match. In fact, no player could play a second singles match before each teammate had already played singles.

Day Two opened with the "Fan's Choice" singles match, which didn't count against either player's match total. That match was followed, once again, by two doubles matches and a singles match. Again, all five players from each team had to compete once.

Day Four was, of course, five singles matches, with each player able to play just once.

It was Day Three that Ruysink spotted an opportunity that would give Team USA an advantage if Chamat had not noticed the same thing.

"I puzzled for hours with the format," Ruysink said. "I put out all the possible combinations. It's very complicated, really.

"There are three blocks [of two doubles matches and one singles match] in which every player has to play. Singles are different all the time, except for the Fan's Choice. So, you have almost mandatory doubles and the same pairing can't play twice."

With seven doubles matches and 10 possible pairings per team, Ruysink positioned his doubles options so that he could save his top pairing of Shane Van Boening and Skyler Woodward for the first doubles match on the third day.

"I saw this loose match there on Day Three that hadn't been there before. It was not connected to any block of matches, so it was a free match. Then it was doubles, singles, doubles and I could use Shane again."

The maneuver essentially gave his two best players an extra match. Including the opening team match, Ruysink was able to send Van Boening into action eight times and Woodward seven. Conversely, Team Europe's top players, Josh Filler and Jayson Shaw, played seven and six matches, respectively.

Ruysink sent Woodward into action three times on Day Three and Van Boening twice. It resulted in three wins in a row and helped the U.S. build an 8-5 lead en route to its 11-8 overall victory.