Current Issue

Previous Page Page 4



TNT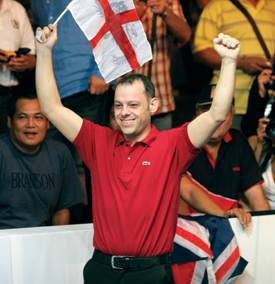 Steeling his game in marathon money games in the Philippines, Appleton won the 2008 World 10-Ball Championship in Manila. (Photo by Mike Howerton)
While in the Philippines for the World 9-Ball Championship in the winter of 2006, Appleton, knowing he needed some serious seasoning, especially in the rotation games, forced himself down into the gambling pits against some of the toughest Filipino players on their home turf - such as Warren Kiamco, Lee Vann Corteza, Jharome Pena, Roberto Gomez, Jeff De Luna and Antonio Gabica. Night after night, he was in big-money games: races to 25 or 30 for $1,000-$6,000, playing 8-ball, 9-ball and 10-ball. He even played "cheap" $200 sets against Efren Reyes, Francisco Bustamante and Alex Pagulayan - and broke even.

By the time he was done, Appleton had stayed in the country for nearly three months solid, "playing 40 to 50 challenge matches," he says, adding: "I walked in an underdog, walked away with around $8,000 of winnings."

His most memorable matches: Beating Corteza, 25-12, in 8-ball for $5,000 after being down 11-7 ("I hit some crazy gear and ran six- and seven-packs to win. I played perfectly.") and, also in 8-ball, topping Gabica in a hill-hill thriller, 25-24.

He returned to the Philippines in March of 2007, stayed for another six week, and, remarkably, came out a winner again.

"Looking back," he says, "I might've been crazy playing the likes of all those strong players and giving big weight to guys like Ricky Zerna and someone named Lolong. The Filipino players are the greatest on Earth. But it was great grounding for me. It definitely quickened my learning curve and made me much, much stronger." His cousin Andy is convinced it was the "turning point" of Darren's career.

Indeed, not only did Appleton win the World 10-Ball in 2008, he won the EuroTour Italy Open and Derby City Straight Pool (as well as finishing a respectable 7th in the one-pocket division) that year.

"The best thing about Darren's game," says Karl Boyes, "is that he just loves pool. He never gets bored talking about it." Or talking about fishing, which is another obsession of his. If Appleton's not playing pool, you can pretty much take it to the bank that he's either glued to some fishing show on TV or out on some lake baiting his rod for carp. In fact, the only time he's ever been truly afraid is when his boat once got stuck smack in the middle of a lake around two in the morning after a hooked carp tried taking the thing down into the muddy depths. "Terrifying," he remembers. "It was so pitch black outside I couldn't see a thing." Says Andy: "Darren goes after fishing like he does pool. I've (even) seen him flailing about in the water."

"Fishing," says Darren, "is a great way to get away from pool. It relaxes me."

At least for the moment.

That doesn't mean when he's back in the poolroom he doesn't crack his shaft sometimes, or smack his stick on something hard, or want to explode the way he did in his early days.

"I still lose my cool at times," he confesses. "But I've mellowed over the years, found the right balance. I think I'm older and wiser and control my emotions better.

"The thing is, I know, because there are so many great players around the world, that it's impossible to dominate this game. So I know I will have my ups and downs, and I prepare for that. If I get upset with anyone, it's with myself and nobody else. And look how far I've come. I was probably a 25-to-1 shot to win a major pool title when I began."

He chuckles.

"Besides, if you can't accept defeat - and the bad luck - it will give you brain damage."


Previous Page Page 4

Top
MORE VIDEO...