Tired of waiting, New York room owners sued to reopen... and won!
By Mike Panozzo This is all Greg Hunt's fault.
The owner of New York's legendary Amsterdam Billiard Club remembers all too well the events leading up to the shutdown of poolrooms in New York City on St. Patrick's Day in 2020. Hunt was in the midst of preparing for the club's 30th anniversary bash, scheduled for March 30. The gala event was actually going to start on Friday, March 27, with an exhibition by pool icon Jeanette Lee, kicking off a weekend of festivities. Lee was a waitress at the original ABC when it opened in 1990, before launching a playing career that would take her to the Billiard Congress of America Hall of Fame.
The main event was to host 300-400 people, including TV and movie stars Paul Sorvino and Tony Danza, and pool stars Mika Immonen, Tony Robles, Thorsten Hohmann and more. It was going to be, in Hunt's words, "a major event."
All the while, however, Hunt was wary.
"My brother (and original partner) Ethan and I always resisted anniversary parties," Hunt recalls. "In our business, they're bad luck. Whenever a bar or restaurant or club had a big anniversary party, it seems like they'd all go out of business within a year or so."
Amsterdam Billiard Club didn't even get that far!
Ten days before the event, New York State closed 100 percent of nonessential businesses statewide. For the next 10 months, the lights remained out and the doors shut at every poolroom in the state. State shutdowns of poolrooms across the country suffered the same fate.
"We're never having an anniversary party!" Hunt insists, only half joking.
But while Hunt may jokingly take some responsibility for any part that karma played in the shutdown of rooms in New York, he can also take a fair amount of credit for the recent injunction that has allowed rooms in the city and state to reopen. He was one of the ringleaders in a group of 15 billiard rooms that filed a lawsuit against New York State and Governor Andrew Cuomo in December, arguing that the state's actions against poolrooms were arbitrary and capricious.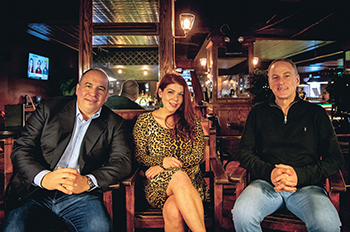 Attorney Mermigis (left) took on the State of New York on behalf of room owners like Sansouci (center) and Hunt (right). Photo by Erwin Dionisio
The suit, filed by the group's attorney, James Mermigis, a Long Island attorney who had already argued successfully on behalf of gyms in New York, cited numerous businesses similar to poolrooms that the state had allowed to reopen, including bowling centers and casinos.
In mid-January, a judge in Syracuse, where the case was heard, issued a temporary injunction to the state's ruling, allowing the 15 plaintiffs the right to reopen under the state's Phase 4 guidelines — a limited workforce and 50 percent capacity for visitors. An argument for permanent injunction has yet to be scheduled.
"The owners are elated," Mermigis told Newsday.com. "They've been shut down for almost a year, accruing rent, utility and insurance bills every month, unable to open to visitors while casinos and other establishments were open."
In the aftermath of that announcement, Mermigis was informed that Cuomo plans to appeal the injunction, a curious move in singling out poolrooms while trumpeting the importance of opening the economy in New York.
"The judge ruled that we would be treated like bowling alleys," counters Hunt. "So, going forward, as bowling alleys are extended leeway, we should be, too."
Bowling centers in New York State were allowed to reopen in mid-August, following a vigorous statewide campaign by members of the well-heeled New York State Bowling Proprietors Association that focused on educating lawmakers and health officials as to bowling's ability to operate safely.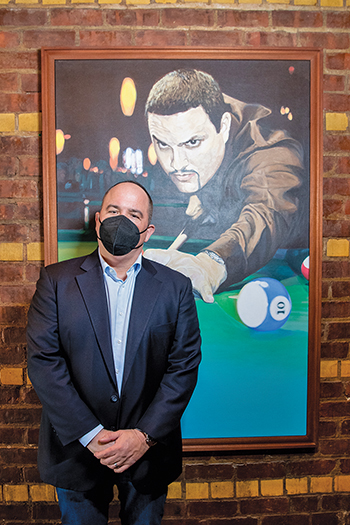 Mermigis has proven effective fighting for small businesses.Photo by Erwin Dionisio
In fact, the reopening of bowling centers in New York was critical in getting poolroom owners to gather and fight.
"Bowling alleys reopening was the tipping point," says Athena Sansouci, general manager at Steinway Billiards in Queens.
Additionally, according to Sansouci, in the middle of summer the City of New York alerted poolroom owners that it was doing away with specific poolroom business licenses and that the rooms would now be lumped in with restaurants.
"Then Cuomo sent an email saying pool was a contact sport," laughed Sansouci, the widow of former New York pool legend George "Ginky" Sansouci. "We felt like we were being targeted."
Hunt, Sansouci, Doug Rhee of Society Billiards in Manhattan and Timur Munarov of The Billiards Company in Forest Hills began sharing their frustrations and started contacting fellow poolroom owners to discuss a plan of action.
"At first," recalls Hunt, "we just wanted to lobby the governor. We launched a 'Please Don't Leave Us Behind the 8-Ball' campaign. We eventually got 15 rooms together and each sent a box of new billiard balls to Cuomo's office."
The group, which initially formed under the Metropolitan Billiard Room Association and later changed its name to the New York State Billiard Room Association to attract members outside New York City as a legal maneuver, continued to bombard the governor's office with signed petitions, emails and letters.
They received nary a single response from any representative of government. "This was 15 small business owners," says Hunt. "Entrepreneurs who've dumped their life savings into these businesses."
According to the association's website, the group employs more than 1,000 workers and estimates losses of more than $73 million during the shutdown.
"In retrospect," says Hunt, "I found [the lack of any response] disgusting."
Hunt encouraged the others to consider hiring a professional lobbyist as the next step, but Munarov implored the group to consider a bolder approach, suggesting that Cuomo would not likely respond to anything short of a lawsuit.
"Others had been taking a softer approach," Munarov says. "I was in negotiations with my landlord, but we needed to be open. We still had to pay our rent, utilities and insurance, which are more than our payroll. I didn't think we could have survived past April."
Through his business attorney, Munarov had heard of Mermigis and his successful efforts to get gyms opened in August.
"We met him and like him a lot," says Hunt. "He was really passionate about us and was angry about our situation."
"What was interesting to me was that bowling alleys were allowed to open," Mermigis recalls. "Both are operated in large spaces and are very capable of ensuring a safe atmosphere — good air systems, the ability to have small, contained groups of people, etc. I felt good about a constitutional equal protection claim."
Sansouci felt poolrooms had been "targeted."Photo by Erwin Dionisio
"All the rooms have great ventilation," Sansouci says. "We use UV lights, disinfectant, wear masks, enforce social distancing. Being open and safe is easy for us."
Mermigis based his suit on the 14th Amendment, ensuring the right to earn a living and the right to gainful employment.
"It's not a fundamental right," Mermigis says, "but it is still a right protected by the Constitution, and the state has to account for that. If you can show that the state's actions were arbitrary and capricious, you can win even on a non-fundamental right."
A clever strategist, Mermigis encouraged the local rooms to solicit members in different parts of the state so that he would be able to file the suit in an area that might be more sympathetic to his clients' plight.
"You have to find the right judge," Mermigis says. "That's key."
When discussing a previous case in New Yorker Magazine, Mermigis said, "I went to the Politico website. I looked at results of the 2018 election and looked at jurisdictions that [Cuomo] got demolished in." He settled on filing in a county where Cuomo received only 30 percent of the vote.
The poolroom owners enlisted a member from Syracuse, Brick House Billiards, and that is where Mermigis filed his suit on their behalf. The strategy worked perfectly.
"Our judge (State Supreme Court Justice Gerald Neri) had true empathy for these business owners. These owners were losing money to nearby states where rooms were open. He felt the decision by the State of New York was arbitrary."
Among the arguments set forth by the State was the contention that pool table cloth was porous and therefore could aid in the transmission of the virus.
"That's how [the State] lost," Mermigis contends. "Casinos use identical cloth, and they were open. There were cloth examples in a lot of businesses that are open. It was a ridiculous thing to argue. Once the judge saw these examples, it was easy for him to rule that the law against poolrooms was arbitrary."
Of course, New York is not the only state in which poolrooms have struggled to get clearance to open. In numerous states, including California, Louisiana and North Carolina, poolrooms are still not allowed to open. And in most states that allow poolrooms to be open, regulations limit the rooms to as little as 25 percent occupancy and don't allow food and/or beverage service.
What can poolroom owners still struggling for survival take from the New York case?
"Lawsuits work," Mermigis states clearly. "When you can find distinctions that are arbitrary, you can use the Constitution to your benefit. We are fighting on the same Constitution that other states are fighting on, so it really shouldn't be different from state to state."
Still, Mermigis marvels at the room owners' victory and cautions that the road is not easy.
"What we won was kind of historic because we won on a rational basis theory," Mermigis says, "which means that it is the lowest level of scrutiny for the state. It's easier for the government because all they really need to show is that the ruling is for a legitimate government interest. The state will win that argument 95 percent of the time."
While other room owners proposed a less-combative approach, Munarov insisted the state would only respond if sued.
Mermigis also says that the bigger the group, the better the chances.
"The more plaintiffs, the more power," he says. Hunt concurs.
"Forming an association and launching a website was a big deal," he says. "It helped to be able to show that we were organized. It helped to have everyone's contact info. It helped to organize. And it certainly made raising money easier."
In fact, since the temporary injunction, which only allows the suit's plaintiffs to reopen, Sansouci has been fielding calls from other rooms hoping to jump on the bandwagon and be part of the permanent injunction.
"We want pool open around the state," she says. "We're up to 21 rooms, with seven more on tap. Competition isn't a concern right now. Getting open is the priority." The group estimates that there are 65 rooms in New York State.
"Hopefully, we'll stick together and add rooms," Hunt adds. "Organizing is actually pretty easy. And now, when we have issues that affect all of us, it will be easy to get everyone together again." While poolrooms around the country have been slow to organize, many have turned to the Billiard Congress of America for guidance.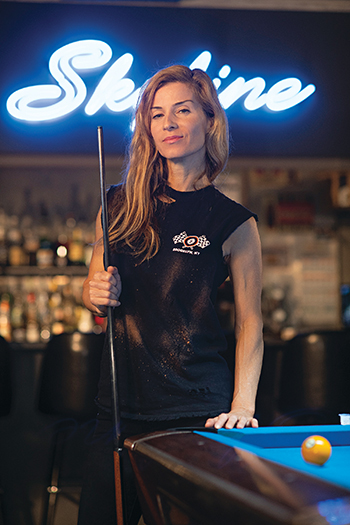 Barretta joined to "help all rooms," but is waiting for better terms. Photo by Jonathon Smith
"We've tried to serve as a resource and a conduit to rooms in need," says BCA Executive Director Rob Johnson.
Among other resources, the association has hosted webinars with the National Federation of Independent Businesses and directs room owners to an employment lawyer in Colorado that has been retained to offer advice on issues relating to getting or staying open.
In the meantime, the 15 room owners in pool's history-rich epicenter are slowly getting back into business and are cautiously optimistic.
"We are only at 50 percent occupancy and we have to close at 10:00 p.m.," notes Munarov. "A large portion of any poolroom's business is after 10:00. For us, it's probably 50 percent. But at least now we have a fighting chance."
"We opened Jan. 30 and had a line outside before the doors opened," says Hunt. "But, overall, it's still very slow. Fifty-percent occupancy and no food or alcohol makes it tough. Numbers-wise, we're down 85 percent from last year at this time.
"But it's better than not being open at all. Fixed costs don't go away. If you can operate with a skeleton payroll and cover that payroll, it's worth it. Anything above that goes to monthly fixed costs."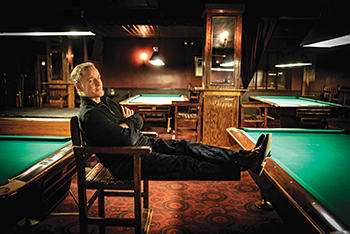 For Hunt, tight restrictions are better than being closed, but he's not planning any parties.Photo by Leo Jacob
(As of mid-February, New York rooms have been allowed to serve food and beverage at 25 percent occupancy.)
Pro player Jennifer Barretta, owner of Skyline Billiards in Brooklyn, was a plaintiff in the lawsuit but has opted to stay closed for the time being.
"I'm waiting until we can serve food and alcohol above 25 percent and stay open past 10:00," Barretta says. "I'm very wary of inspectors. I've heard some bad stories.
"But I was part of the lawsuit because I want to help all poolrooms. I'd had enough. It's hard to make it as a small business in New York City. I want everyone to be open."
The New York room owners admit that the governor's appeal is a concern, but with positivity rates dropping across the country and the continued rollout of the vaccine, the future holds promise.
"As vaccinations increase and the weather opens up, more businesses will open," says Hunt. "My gut tells me that we will be close to 100 percent by September."
Perhaps then, Hunt will host a "Welcome Back" bash!