Current Issue
ONE SECOND OF EVIL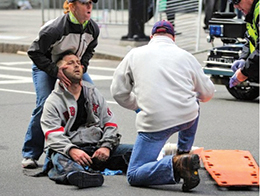 In a split second, Boston Marathon bombing victim Jarrod Clowery's life changed forever. A year later, Clowery insists that change has been for the better.
Get up, Jarrod. Just get up. You're OK. You're OK.
Jarrod Clowery was engulfed by flames when the pressure cooker packed with nails and ball bearings exploded a few feet away from him. The 35-year-old carpenter, and top regional pool player, was climbing a metal guard rail after hearing an explosion a block to his left when he was blasted onto Boylston Street. He stood up, his singed gym shoes pressing pavement within sight of the 2013 Boston Marathon's finish line.

The only thing Clowery could hear was the voice inside his head.

Just get up. You're OK. You're OK.

His hands, wrapped around the metal guard rail when the second bomb exploded less than five feet below him, were badly burned, but he counted 10 fingers. His legs, exposed through a shredded pair of jeans, were pockmarked by dozens of carpenter nails, ball bearings, splinters from the nearby tree, even bits of denim.
Two off-duty state troopers attended to Clowery as he stumbled around the gruesome scene. They sat him down and assured him everything was going to be OK. "Believe me, there are worse out here than you," one said. The thought of his childhood friends, brothers J.P. and Paul Norden, with whom he'd attended the marathon, rushed back into his shell-shocked mind.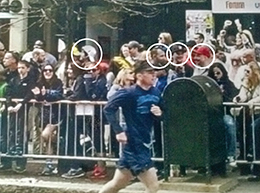 Oh my god, they're dead. They're all dead - and if they're dead, I must be, too.

The Nordens survived, joining Clowery among the 264 people wounded by the two bombs at the 2013 Boston Marathon. Three spectators - Krystle Campbell, 29; Martin William Richard, 8; and Lingzi Lu, 23 - did not. Three of his friends (including both Nordens) lost portions of their right legs. Clowery has significant hearing loss in one ear and still carries a dozen pieces of shrapnel in his flesh.
For Clowery, the life and limb lost on April 15, 2013, will never return. The sorrow for those who died and the empathy for those who suffered and continue to suffer will never disappear. But in the hours and days and weeks that followed, Clowery grabbed hold of hope - a genuine and complete belief that a single action cannot outweigh the thousands of acts left in its wake.
"The bomb is one second of the worst humans can do," he said. "But from my perspective, it was one second of evil, and it's been followed by countless seconds of good."
Clowery was rushed to Brigham and Women's Hospital with extensive burns and 60 pieces of shrapnel in his legs. His eardrum was blown out, and the skin on his hands entirely covered in burns.
Without life- or limb-threatening injuries, Clowery sat in the hospital waiting room for three hours, holding his limbs in the air to avoid aggravating his burns and the "foreign bodies" that shredded him, as he says, from ass to ankles. The adrenaline that let him stand seconds after the impact was wearing off. No matter how surreal his experience, the pain was becoming all too real.
"I remember in the early moments, the fear - you think, I never expect this to happen," he said. "I thought that absolutely anything was possible. If the whole hospital collapsed, nothing would have surprised me."
Three hours later, unaware of how threatening his injuries, he was in surgery. He was stabilized, his most pressing wounds addressed with plenty of work left to be done. His physical condition improved steadily. His surgeon, at a press conference two weeks after the bombing, warned Clowery he had a long road ahead of him.
"The reality is that a full recovery will take some time," said Dr. Robert Riviello, who compared Clowery's wounds to those associated with gunshots and landmines. "For the last two weeks, the focus of your care here has been about saving life and saving limb. Going forward, the focus isn't on saving your life, but getting your life back. It's going to be a lot of work for you. But I believe you're going to get there."
Surrounded by friends and family, Clowery had no problem being upbeat and positive. He received visits from local sports stars and TV celebrities, as well as a visit from First Lady Michelle Obama. But while the wounds in plain sight were mending, the darkness was undeniable. Those first few nights, Clowery was terrified to be alone. His mind raced, going over what happened and what could happen. That unknown, that lack of control, was the worst. He had panic attacks. He would start shaking for seemingly no reason. He battled, and continues to battle, anxiety.
As the days piled up between him and that Monday, though, Clowery felt something growing inside of him. The heroic actions of those around him never escaped notice, but the little things started to stand out a little more. For one, he noticed his walk to the bathroom to change his bandages took longer and longer. He found himself stopping to read more of the cards from children across the country that filled the walls of his hospital room.
"For the first time, I felt a real sense of hope," Clowery said. "I would be laughing and crying at the same time."
The cumulative effect of the outpouring of support, of the two state troopers who cared for him immediately after the explosion, of the trauma nurses and surgeons, of his friends and fellow victims - it all began to outweigh that single moment.
For all the well-wishers and the phone calls, Clowery was struck by the outpouring of support from a community that he hadn't called home in years. Once one of the top players in the Boston area who'd regularly cash on the Joss Northeast 9-Ball Tour, Clowery gave up life on the road as a full-time player in 2004. He'd make an occasional cameo at an event in the area, but he was, for the most part, a part-time player.
"I'd like to thank the pool community," Clowery said. "I heard from so many players, too many to name, through Facebook, email, driving to the hospital, giving me a call. Everybody out of New York, the Massachusetts and Connecticut guys, the Vegas guys, I can't thank them enough."
Mike Dechaine, who plays with Clowery out of Snookers in Providence, R.I., was in Boston at the time of the bombing. Days later, he stopped by the hospital to check in and see how Clowery was doing.
"When people heard about what happened, they reached out and offered a tremendous amount of support," Dechaine said. "He had built a lot of close relationships over the years, especially here in New England."
It only made sense Clowery was so well received by the pool community. Though he'd been away from the game for years, it had been an integral part of him for nearly 25 years.
The middle child of three to a single mother who supported the family by waiting tables, Clowery grew up a 20-minute drive from the Boston Marathon finish line. His childhood, like so many other pool players, changed entirely when, at the age of 12, he stumbled into a basement poolroom in his hometown of Stoneham, Mass. A few guys were tossing around a couple of bucks on a game of Kelly pool.
"That was it. I was hooked," he said. "It was like nothing I had seen before, and it wasn't like anything anybody else was doing."
He stuck around school long enough to get his diploma, but his idea of higher education sent him on the road for some seasoning. Clowery spent seven years supporting himself through pool, though he worked a few other jobs when the opportunities looked worthwhile. He had a business selling sausages and hotdogs for a while, but that didn't stick. He worked odd jobs here and there when he needed to replenish his stake. The only reason for regular work, though, was to get him to the next tournament or into another cash game.
He developed into a top player on Mike Zuglan's Joss Tour, a strong regional circuit that attracted a big name or two to each stop. In 2003, when he was 25 years old, Clowery had his strongest year as a pro. He totaled more than $11,500 in tournament winnings, including $1,700 from a Joss title, his biggest purse to date.
"He was capable of beating anybody at any time," Zuglan said. "Methodical, smart, grinding-type player. He wasn't real flashy. He wasn't real boisterous. He just got down there and did it."
At first, that "grinder" reputation stuck with Clowery. Maybe he didn't have the most natural ability or the smoothest stroke, but he was more than willing to compensate any deficiencies in talent with effort.
"People always told me I could be a good regional player, but nothing special," he said. "Hearing that I can't do something, that just made me want to do it that much more. I've always been a grinder. I've always had to battle."
That year was when Clowery collected his most memorable victory at the table. Advancing to the final of a Southeast Open 9-Ball Tour through the one-loss side, he needed to beat Johnny Archer. Twice. In races to 11. In the Scorpion's home room. In the middle of Archer's BD Player of the Year campaign. "I don't know how I played so well, but I just battled," said Clowery, who pulled off the unlikely double-set win for the tournament title. "I wouldn't give an inch. Johnny is one of the greatest players ever, and I know I wasn't at his level. But I proved to myself I could play with someone like that."
The problem, Clowery came to realize, was that he couldn't keep up with the best on a consistent basis. Not only that, he was a new father of a baby boy. Trying to scrape together enough money to provide for his son, not to mention finds his own place to crash, proved too much. Clowery gave up pool, at least full-time, to head home and work construction and carpentry jobs.
But all the while, Clowery had intentions to take another crack at pool. Sure, life had proved incompatible with the game when he was 26. But a decade later?
"I looked around and noticed a lot of players have their best years when they're 35 or 40," he said. "I figured, when I'm that age, my son will be 11 or 12. I'll have time to get back into pool."
Now more than a year after the marathon bombing, Clowery has wasted little time making the most of his second chance. Once terrified by nothing more than the unknown, he is jumping into a host of new ventures. Pool has returned as a central passion, but it shares his attention with a number of other responsibilities. Namely, he has established the Heroes' Hearts Foundation, a charitable organization that emphasizes the everyday heroes who can go unnoticed. Ideally, Clowery sees power in his message - not in his experience, exactly, but rather in relaying the heroic efforts of the first responders, nurses and surgeons, his friends, even the countless children who brightened his days with their drawings.
The goal, Clowery says, is to change the culture in schools and reduce bullying of various kinds. Using Internet streaming services, much like the pool world has done in recent years, Clowery believes his foundation's Video Conferencing Classroom Program has the potential to reach hundreds of students at a time. While establishing his foundation, Clowery hopes to support himself and his son financially with a rental property and an investment in a health and nutrition store. He also is able to work construction jobs if need be, though admittedly not like he used to. That approach makes his return to pool a vastly different experience from when he was on the road at 19 chasing the next payday. "Pool's a tough nut to crack," he said. "I like to win money, but I like competing and winning. I'm trying to set my life up so I can have some income to free up enough time to play pool. I was a kid when I played before. Now I'm a man."
With a sense of stability and purpose away from pool, Clowery knows his life must be in order before chalking up. Getting back in stroke might be a little easier with Dechaine, a two-time Mosconi Cup Team USA member, as a sparring partner. The two, who grew to be friends after playing in the 2002 Joss Tour event in Maine, try to get together twice a week.
"He's been putting in the work," Dechaine said. "It might take some time. Equipment has changed a bit. But I don't see why he won't at least get back to where he was."
Clowery relocated to Millville, Mass., in an effort to be closer to his son, Jarrod Jr., in Smithfield, R.I. Clowery coaches the junior football team. Coincidentally, he's also closer to Snooker's in Providence, R.I., which portends well for his return to competitive pool.
If his reputation at the table is any indication of his drive, Clowery isn't going to have any ready-made excuses.
"He's a Boston street kid - them guys are tough," Zuglan said. "It's going to take a lot more than that to knock him out."
After a tough winter when construction jobs were scarce and money stretched thin, he remembers how the morning of April 15, 2013, was perfect. The sun was shining and he was starting a job in two days, so J.P. Nordon didn't have to sell Clowery on driving downtown to meet up with his brother and some friends for the marathon. At 2:49 p.m., Clowery and six friends were standing outside the Forum restaurant on Boylston Street when the first bomb exploded 210 yards to the group's left. Twelve seconds later, the second bomb exploded directly underneath them.
It's human nature to wonder, "What if?" What if it had rained that morning? What if Clowery had stopped a half-block down the street? Or, conversely, what if he had been two steps closer to the backpack?
"If I wasn't standing there, if my friends weren't there, it would've been someone else," he said. "The bomb was meant for all of us. I'm breathing, my friends are all breathing. Some people weren't so fortunate. It wasn't personal. The bomb wasn't for me. It was for all of us."
If the carnage of that day was meant for all of us, then the aftermath is also ours to share. And if you ask Jarrod Clowery, the heroism on that day and every day since outweighs the destruction. What he won't tell you, though, is that he might be one of those people who have restored a sense of hope. "You can choose to see things any way you want. You can choose to have the black cloud around you," Clowery said. "No matter how bad things are, there is a bright side. I just really grabbed onto that, and it has led to a lot of great things. It led me to the Heroes' Hearts Foundation, and it led me back to pool."