Jeannie Seaver, once dedicated to life on the women's pro tour, stepped back from the game to pursue a career in nursing. The Floridian has now found happiness as a professional nurse and amateur player.
By Nick Leider
In March, at the U.S. Amateur Pool Championship, Jeannie Seaver couldn't have looked more at ease as she cleared difficult racks in a one-sided 9-3 win in the title match. One of 50 players in the field of the American Poolplayers Association's prestigious tournament, Seaver had the benefit of years of experience in top-flight competition, thanks to a stint chasing success on the women's professional tour in the '00s and even more years racking up victories on Florida regional tours.
But the newly crowned amateur national champion took a circuitous route to the title — one that, if you look closely enough, is an illuminating analogy for the ups and downs of women's professional pool in the 21st century.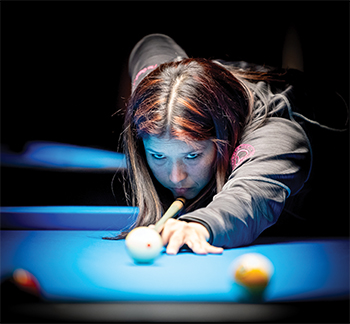 Jeannie Seaver.Photo by Erwin Dionisio
A Late Arrival
The younger of two daughters in a military family, Seaver bounced around a bit as a child before finally settling in Florida where she finished elementary school in Tampa and high school on the Atlantic side of the Sunshine State. It wasn't until after she received her diploma that Seaver finally found pool, thanks to her older sister's recent discovery of the cue arts.
"I was obsessed right away," she said. "I played like it was my full-time job — playing eight or 10 or 12 hours a day."
Making up for lost time, Seaver quickly set her sights on the Women's Professional Billiard Association Classic Tour. At the time, in the late 1990s, the women's circuit was at its zenith, with Allison Fisher, Jeanette Lee and Karen Corr headlining as many as a dozen pro events a year. More importantly for Seaver, the Classic Tour, thanks in part to its exposure through ESPN, was a viable path to a self-sustaining career as a pro for the top American player.
Making it as a pool pro is never easy, but the prize money ($1,500 or $2,000 for finishing 13th or 17th) and frequency of tournaments made it viable for those willing to put in the work of chasing sponsors, banking prize money in regional tours, and the like. But professional dreams rarely top out at barely keeping your head above water.
Within three years of picking up a cue, Seaver cashed in her first professional event, pocketing $500 at the 2001 Women's BCA Open for a 33rd-place finish in Las Vegas. She kept grinding, trying to climb the ladder of the WPBA when it was arguably attracting its deepest fields, with dozens of American fledgling pros battling with more and more international talent.
"I was lucky to have sponsors help with entries and other costs," Seaver, now 43, said. "And I was able to reach pro status in 2004."
Her performance at her half-dozen Classic Tour appearances each year steadily improved, collecting a handful of ninth place finishes and an impressive fifth at the 2006 World 9-Ball Championship in Taipei, Taiwan.
In addition to her on-table exploits, Seaver also organized and promoted the Ladies Spirit Tour, a Florida-based regional tour that offered players qualifying spots in WPBA events, in the mid-′00s. Immersed in the game, she valued the welcome she received from many top players, along with the friendships made with other up-and-comers.
"At that time, when you're trying to get better and improve yourself, all you can do is ask better players," Seaver said. "And they weren't against telling someone how to get better. They're not scared — they are the best players in the world. They just wanted to see the game improve and grow."
Seaver became good friends with Caroline Pao, another regional star looking to make it big on the Classic Tour. Based in New York, where she currently owns Mezz Cues USA with Mika Immonen, Pao recognized Seaver as someone who shared a deep competitive spirit.
"Ever since we met, I knew Jeannie was the nicest, sweetest person, kindest person you'll ever meet," she said. "But the minute we'd start playing, she immediately becomes the fiercest player. Right before the match, she'll say, ′Good luck!' and then it's like a lioness comes out and she's a totally different person."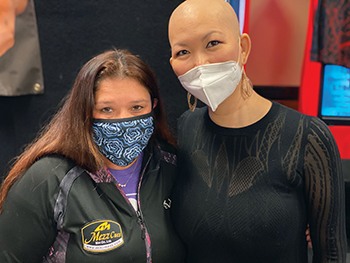 Nurse Seaver was there for ailing Jeanette Lee at a recent fund-raising event.
Such a switch isn't uncommon — and in this case, it didn't keep Seaver from becoming part of the traveling WPBA bandwagon. She, along with Pao, eventually welcomed a new arrival from South Korea. In 2003 and 2004, Ga Young Kim started to play on the WPBA Classic Tour with regularity. Through the help of pro-turned-promoter Charlie Williams, she started spending more time in the U.S., with Seaver hosting the new arrival.
"Charlie was helping me with my game at the time," she said. "And one day, he says he has a friend flying in from Korea and asked if I'd come over and just take her out, show her the pool halls and whatever. I drove an hour to Orlando and I took her to Pro Billiards in Orlando because I already knew a lot of people there."
Bouncing between Florida, New York and back to Korea, Kim didn't have much trouble finding success on the table. She won her first Classic Tour title in 2004 at the WPBA U.S. Open and quickly ascended near the top of the rankings. But handling the culture shock was a bit of a different challenge — one that Seaver valued helping her overcome.
"She couldn't speak much English at all," Seaver said. "I tried to teach her as much as I could. We'd actually go over songs by writing down lyrics and she'd read them over and over. She'd ask, ′What does this mean? What's this?' and I'd explain it to where she could understand.
"Some words she had a hard time understanding the difference," Seaver added with a laugh. "Like ′beach' and ′b----'! She would say there's no difference. I said, ′Yes, yes. There is a difference.'"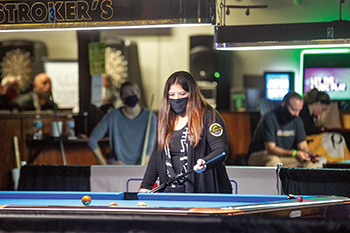 Comfortable in her profession, Seaver says the stress and pressure in competition is gone.
By Kim's third trip to hang out with Seaver in Florida, they decided she might as well move in. With frequent trips to New York and the two rooming with Pao on the road for WPBA events, the three became a mobile support structure of sorts for the competitors, with Kim being the most visible member as she regularly competed for titles.
"We had so much fun during those times," Pao said. "Luckily, I can speak Mandarin, and [Kim] spent time in Taiwan so she did too. It was a funny thing, how we'd all communicated, but we became tight, spending a lot of time together working on English, practicing, competing, watching movies and doing all the girl stuff that you do."
Back to School
Running a regional tour, competing in as many events as possible and maintaining something of a life back at home, Seaver didn't have much free time in her schedule. But that began to change in 2007 and 2008. The collapse of the global economy couldn't have come at a worse time for the WPBA, which had its own issues with leadership and direction at the time.
Amid the Great Recession, the Classic Tour all but collapsed, with a dozen yearly events falling to three or four, with prize money shrinking, making it all but impossible for players outside the top few to sustain themselves. The industry as a whole was in shambles, leaving Seaver to question what's next.
"I lost my sponsors and was basically on my own," she said. "Covering all the expenses, I realized I couldn't rely on other people, and it's just not possible to do this myself."
Seaver then decided in 2009 to go back to school to pursue a nursing degree, a field she was always interested in and now had the motivation and time to pursue in full. Though she still played in regional events here and there, she was dedicated to her studies and became a practicing nurse in 2011.
"From that point, I really focused on my career and I didn't play in a single professional tournament for five years," said Seaver, who now works in oncology, working with cancer patients to get approval for various requests through insurance companies. "I have a table at home, so it has never been difficult to play, but I'd say it would be once a week, if that."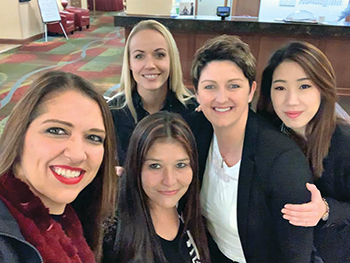 Life as a WPBA pro took Seaver around the world, playing and befriending the likes of (l-r) fellow Floridian Sonya Chbeeb, Austria's Jasmin Ouschan, Britain's Kelly Fisher and Taiwan's Tzu Chien Wei.
Flashing forward to the present day, in the Age of COVID-19, Seaver luckily has weathered the public health crisis as best as can be expected, having worked remotely for years before many nurses and doctors were on the front lines of the deadly pandemic. Still, with a skillset in high demand since March 2020, she did face a difficult choice early in the crisis.
"I did get a big job offer to go to New York and be on the front lines," she said. "They offered me quadruple what I'm currently making, but I was scared to death. It was very, very hard to turn down, but I just couldn't. I only want to keep myself and my loved ones safe."
Finding Balance
In her decade as a nurse, Seaver has adjusted and thrived in her life off the road. She works regular hours, something that's not possible when you're going from event to event as a full-time pool player. But her appetite for higher competition wasn't entirely erased when she switched career paths.
After qualifying for the 2016 WPBA U.S. Open through a regional tour, Seaver finished fifth at that event, a run that included knocking eventual champ Kim to the one-loss side. From that point, she began to pursue a balance between life as a professional nurse and an amateur pool player.
"I've got a full-time job that I like and want to focus on," she said. "But I still enjoy playing, and it's been great to get to play just to have fun. I get to relax and see what I can do. I don't stress about the money or the expenses or any of that. That's the biggest perk about being able to play pool now."
Pao, who also still plays, though her gig with Mezz Cues remains top priority, understands the shift in focus that happens when pool becomes a priority instead of the priority.
"It's a huge difference, just because a lot of the pressure is gone," she said. "Everyone still wants to win. You can't help but be as competitive as ever when you're playing. But you know you are playing to enjoy the game, to have fun."
The WPBA, meanwhile, has struggled to keep hosting its handful of events each year. The tournaments that do happen offer prize funds that are one-off paydays for its competitors, from the title contenders on down. For better or worse, the professional tour is one that cannot, on its own, support professional players — a kind of forced amateurization of the American game. (Meanwhile, a handful of big-money events are held across Asia, though only the world-class U.S.-based players can and do attend regularly.)
Seaver's APA title will allow her to play in another WPBA event in 2022.
For Seaver, though, that's entirely OK. Her earnest return to competitive pool in 2016 fits her life. After that strong performance at the WPBA U.S. Open, she went on to collect back-to-back WPBA Regional Tour Championships in 2017 and 2018.
"It's a little like riding a bicycle, but you need to put in your time, right?" Pao said. "Now she has been doing that. For the last few years, she's been doing well in her competition. And, yeah, then she won the Nationals, which is really awesome."
That win included a few months of dedicated practice for Seaver. These days, though, that means a few hours a few times a week, compared to 70 or 80 hours a week back in 2004. Still, with pool halls across the country in various stages of reopening after what hopefully is the worst of the COVID-19 pandemic, Seaver knew having a table in-house was a bit of an advantage.
"It helped a lot," she said. "Tina Larsen [the 2019 champion] had to come down early to get her time in because Chicago was still shut down. I can practice whenever I want."
That flexibility, along with experience playing in professional events against the world's best, paid off in her unbeaten run to the U.S. Amateur Pool Championship in March. With her win, Seaver is guaranteed entry into a 2022 professional event of her choosing. "I'm looking at the U.S. Open," she said. "It's just always been a favorite of mine. But if that doesn't work, I'll find another." And having that freedom, to choose when and where she competes, shows just how nice it is to balance pool, work and the rest of life for Seaver.
---
Good One-Two Punch
There's a little less space on the shelves at the home of Jason Sheerman and his wife, Julia, after last month's American Poolplayers Association U.S. Amateur Championships.
Jason posted an undefeated record in the 117-player double elimination men's amateur tournament held at Stroker's in Palm Harbor, Fla., twice defeating Daniel Gambill on the final day — including a late rally to win in the championship match. Playing in the women's division in the same room, Julia placed second in her first APA appearance after being defeated by Florida's Jeannie Seaver twice, including 9-3 in the finals.
Gambill controlled the eight-game 8-ball portion of the race-to-11 championship match, winning seven of the eight racks, then tacked on another game when the format switched to 9 ball. Sheerman took advantage of a scratch on the break by his opponent to cut the lead to 8-2, then won the next two racks to cut his deficit in half. Gambill tacked on another rack in the 13th game to increase his lead to 9-4 and had a chance to pull within one victory of the title but missed an 8 ball that was tucked onto the long rail. Sheerman cleared the table to cut the lead to 9-5, then shut out his opponent the rest of the way, as he capitalized on a handful of missed opportunities by Gambill, who committed unforced errors in the 15th and 16th racks. Sheerman tied the match after Gambill overran position on the 4 ball in the 18th game, then took the lead after his opponent missed a bank shot after a safety in the next game. Gambill had a chance to tie the match in the 20th rack but left the 9 ball in the jaws after clearing the table.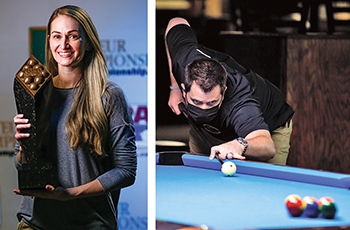 The Sheermans left their mark in Florida, with Jason winning the men's title and Julia taking second in the women's event.
Gambill lost to Sheerman 7-3 earlier in the day in the winner's side final and moved to the one-loss side of the bracket where he faced defending champion Blake Baker, who was in the midst of a rally after an early loss at the hands of Ernesto Bayaua. After splitting the first four games of 8-ball, Baker had the opportunity to inch ahead but failed to clear the remaining striped balls. Gambill cleared the solid-colored balls to break the tie, then took advantage of a missed 2 ball by Baker in the first rack of 9-ball to increase his lead to 4-2. Baker pulled to within 4-3, then failed to pocket a ball when he broke in the next game. Gambill cleared the table then broke and ran to increase his lead to three games. The defending champion stole a rack back to cut the lead to 6-4 and appeared positioned to pull within one game but failed to secure position on the 8 ball. Gambill would pocket the ball and finish off the rack, securing a rematch with Sheerman in the championship.
Like her husband, Julia worked her way through the winner's side of the bracket until reaching the hot seat match-up with Seaver, a frequent top finisher in regional tour events as well as the Women's Professional Billiards Association. She jumped out to an early 2-1 lead during the 8-ball portion of the match, but Seaver took command in the 9-ball section to tie the match at 3-3. Sheerman had an opportunity to reclaim the lead in the seventh game but missed the 8 ball, and had a chance to tie the match in the eighth rack but overran position on the 4 ball. After leaving an open table for her opponent after a missed kick shot, Seaver cleared the table to close out the match, 5-3.
The two competitors met again in the finals, after Sheerman gutted out a 5-3 to Deanna Foster. Playing in the opening 8-ball section of the race-to-nine finals, Sheerman jumped out to an early 2-1 advantage and had the opportunity to increase the lead in the fourth game but left a striped ball near the corner pocket. Seaver knotted the score and went on to win seven of the next eight racks to cruise to a 9-3 win and her first APA national title.
By Keith Paradise