Current Issue

Previous Page Page 2 Next Page >



Best New Room - No. 2: Society Billiards (New York, N.Y.)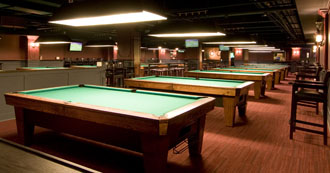 Without exaggeration, the idea of a couple of pool-playing buddies discussing the possibility of opening up their own room is a scene that plays out around just about every public table in the United States.

An equally rare scene, though, is when those pals put together a $2 million renovation job that turns a dank, dingy poolroom into a glossy new gem, right in the heart of Manhattan, which is exactly what a quartet of investors did with Society Billiards.

Built in the space that was once Broadway Billiards, the new $2 million poolroom is an immediate player in New York's bustling pool scene. With 19 tables, a couple of bars and more than a handful of high-profile customers (think Thorsten Hohmann and house pro Jennifer Barretta high-profile), Society is quite the project for four investors with absolutely no experience in the business side of billiards.

"It was a leap of faith for us, but we're very passionate about the game," says Chris Spencer, one of Society's owners. "It's how we met and it's how we met a lot of our friends. We felt that we could offer New York a different pool experience."

The five-month gut rehab of the space wrapped up in June, just as Society held its grand opening. Since then, the room has established itself with the Big Apple's pool players; Society has leagues in 8-ball, 9-ball and straight pool. Taking pride in the equipment, from the custom-made Diamond tables to the cleanliness and playability of the house cues, the folks at Society undoubtedly want to attract those who know quality.

Now the goal is that ever-important cross into the community at-large, turning a destination for the cue-toters into a home for anyone looking for refuge in cocktails or competition.

"We want to broaden our reach," Spencer says. "If we can reach the surrounding community, we think Society Billiards can reinvigorate what the game has to offer New York City."

By no means a modest goal. But remember that this is a group that turned the "wouldn't it be fun?" conversation into 7,200 square feet of billiards bliss.
Best New Room - No. 3: Garage Billiards (Marion, Ind.)
ASKED TO come up with a phrase that might best describe his recently opened Garage Billiards in Marion, Ind., owner Mark Shanks paused for a moment and then said, "It's like if Dave & Buster's married Chuck E. Cheese's and had a baby."

The 6,000-square-foot room's motto is "Eat. Drink. Play. Rock On!" and it's been designed to incorporate all four activities in a space reminiscent of a '50s-style gas station and garage. The pool-playing area has 10 7-foot Diamond tables and three 9-footers sitting by the fašade of an actual gas station, complete with a red London phone booth, garage doors and Texaco gas pump. It's a calculated atmosphere, one designed to embrace a regional icon: The King of Cool, James Dean.

"He was born right here in Marion," said Shanks, "and the annual James Dean Festival (held annually in September) brings about 30,000 to 40,000 people into town every year.

"We wanted to create a cool place where people could come, hang out and play pool."

Garage Billiards emerged from an empty warehouse space that was formerly a carpet store with exposed metal beams, hockey-style overhead lights and bare walls. As owner of an advertising agency and a longtime member of the American Pool Players Association (APA), Shanks was acutely aware that the area needed such a room.

"There are a lot of APA players around here, and there really wasn't a nice place to play," he said. "Most of the rooms [consisted of] two tables and a smoky bar."

Armed with his background in advertising, Shanks began to formulate the basic concept. With his sister, Julie, in for a 25-percent partnership, a business plan was created. With the location selected, they prepared mock-ups of the nostalgic interior and went in search of financing.

"We ended up getting a Small Business Administration loan, along with a loan from the Grant County Development Council," said Shanks.

Work began in January of this year. Shanks had picked up the tables from a nearby room. As the space developed, he worked with the contractors, often sketching on the drywall as it went up. By the time the flag dropped for the start of the Indianapolis 500 in May, Garage Billiards was open.

The room now plays host to a variety of leagues and weekly tournaments. It boasts a full array of tabletop and floor-model video games, as well as 10 big screen TVs. There's a beer and wine bar (complete with nostalgic photos and memorabilia encased on the pine bar in epoxy resin) and a "pub grub" menu.

There were, noted Shanks, two keys to the enterprise. One was the acquisition of quality equipment. The second was an intangible.

"Fortunately, there's been a lot of enthusiasm, and we had a lot of people jump in to help out," he said. "That's the key - having a lot of people that believe in it."

Previous Page Page 2 Next Page >

Top
MORE VIDEO...