Current Issue




A Reign in Retrospect

Twenty-five years after landing in the U.S. and atop women's professional pool, Duchess of Doom Allison Fisher looks back at arguably the greatest career in the game's history.

By Nicholas Leider Photos By Jessica Henderson Photography

The decision didn't have to be made. In 1995, at the age of 27, Allison Fisher was a 12-time world champion in snooker. The game wasn't the most financially rewarding, but the Brit had put together a comfortable life as the best player in the world.

But the prospect of a new challenge – namely 9-ball and the Women's Professional Billiard Association tour, the highest profile cue sports circuit in the world at the time – proved tempting enough for Fisher to make a massive change. After a few appearances at European pro pool events, she decided to cross the Atlantic for a new career as a professional pool player. Along with a single suitcase and a cue, she was headed from London to Toronto, where she'd begin.

"I'll never forget sitting on the plane thinking, 'What am I doing?'" she said from her home near Charlotte, N.C. "I'd like to say it was courageous at the time, but, really, I don't know how much I thought about what I was really doing."

What seemed like a leap of faith – a faith placed wholly on her ability to pocket larger balls on a smaller table – proved to be the best decision of her life. Fisher won the second (and third) WPBA Classic Tour event in which she competed. She went on to win 11 Billiards Digest Player of the Year awards, collected nearly 60 WPBA titles, won four world championships, earned induction into the Billiard Congress of America Hall of Fame in 2009 in her first year of eligibility. She was twice named Billiards Digest Player of the Decade (1990s and 2000s) and now stands as perhaps the greatest player in the history of the sport.

Today, heading toward the sunset of her career, while the COVID-19 pandemic has all but retired pro pool for the time being, the Duchess of Doom, now 52, looks back on 25 years as a professional pool player, taking stock of the unprecedented success along with personal challenges along the way.






(Photo by Jessica Henderson Photography)



Changing the Game

American pool wasn't entirely foreign to the snooker pro in the early '90s. Fisher had participated in a handful of exhibitions, where she met Ewa Laurance and Mike Massey in 1992. On a lark, she entered the Munich Masters that same year, where her entire preparation consisted of a few hours at a pool table in London with fellow snooker pro Stacey Hillyard. Amazingly enough, Fisher shot her way to the semifinals while Hillyard won the title.

Three years later, with women's snooker failing to gain the traction of the men's game, Fisher again turned her attention to 9-ball. She booked a flight to the 1995 BCA Expo in Las Vegas, where she was offered sponsor's invitational spots in September's WPBA event in Charlotte and another two weeks later in Orlando.

"At that point, I thought to myself, opportunities come up in life, and you may never get it back if you miss one," Fisher said. "I always thought I could go back if I had to. I always had a plan B. But you can never look back once a decision is made."

At her U.S. debut, she fell to Laurance, the top player on the tour at the time, in a hill-hill set, and settled for a ninth-place finish. But just two weeks later, Fisher topped Loree Jon Jones in the case game of the final in the Orlando event for her first tour victory.

"My first goal was to win a tournament within six months," she said. "So, to do it that quickly, it was way, way, way faster than I imagined."

Three weeks later, Fisher again topped Jones at the WPBA Nationals for her second win in three starts.






Fisher arrived in '95 and immediately won two titles, including the WPBA National Championship in Bellflower, Calif.



While her performance at the table didn't suffer any jetlag from the hop across the Atlantic Ocean, Fisher was still a 27-year-old in a new country with only a few acquaintances and professional contacts. Luckily, as she will gladly point out, she fell in with a group of welcoming and accommodating people who eased any difficulties in a major life transition.

Her invitation to that first WPBA event came from Kelly Oyama, a fellow professional and owner of Mother's poolhall, the site for the Charlotte tournament. Oyama and her husband then asked Fisher to stay with them while she got on her feet in the U.S. The gesture proved to be life-changing, with Fisher still residing in Charlotte 25 years later.

"I had driven from Charlotte to Florida with Kelly, Loree Jon, Robin [Dodson] and Gerda [Hofstatter]," said Fisher. "Everyone was really nice, and I felt comfortable right away.

"I'm more than fortunate when I look back on it, but everything was falling into place."

Working and training at Oyama's poolroom, Fisher quickly fell into a routine that was ideal for someone looking to learn all she could about 9-ball.

"Back then, you had an event every few weeks," she said. "So, I would get up and practice for six hours. I had amazing training partners like Kelly and Ewa. I just felt comfortable."

Reaching Her Peak

After her quick ascent to the top of the WPBA Classic Tour in 1995, Fisher didn't let up in the following years. In 1996, she began her run of 11 BD Player of the Year awards in 12 years (with Karen Corr's 2001 season the only hiccup). The Duchess of Doom dominated the next decade-plus – all while the women's tour enjoyed its golden era.

Her arrival was timed perfectly with the WPBA Classic Tour's zenith as the top platform for professional pool. The tour was professionally run, with events regularly appearing on ESPN and steady prize money, all while the men's game continued to face difficulties in organization and promotion. Laurance, Fisher, Jones, Jeanette Lee and Vivian Villarreal were stars.

"Everything was so professional," Fisher recalled. "From the moment you walked into the arena, you had an emcee, a crowd of respectful fans, top competition. That's how it was at every stop."

"There were sponsors bidding for every event," she said. "There wouldn't be just one cue company and a table sponsor. It was thriving."

Fisher also feasted at the table. Winning at a clip not seen since Jean Balukas in the 1980s, she dominated at a time when the talent at every event was deep. She credits her focus on the immediate challenges as key to sustaining such a run, never letting up or looking past the next shot.

"When I was at the top of my game, I felt I could win as long as I wasn't complacent and I respected my opponents," she said. "It was the little things – always playing the percentages, not going for shots that aren't there."

And after every victory?






With a trophy case to showcase her dominance in the game, Fisher can now rest on her laurels. (Photo by Jessica Henderson Photography)



"I always felt like it was 15 second of happiness," she said. "You go up, collect your trophy, have a word with the audience, and then you're back at it."

In 1998, Corr, who followed Fisher as the dominant woman snooker champion, followed her into American pool. The Ireland native proved to be the biggest rival for Fisher, as the two routinely clashed in the late round of WPBA and international events.

While frequent foes, the two embrace their rivalry and still stay in contact. Before the COVID-19 pandemic, Corr was all but retired, though Fisher recently dropped her a line to see if they'd be battling at the table in the future. Corr, unfortunately, said it's not looking good.

"Funny enough, Karen joked she was on the way to Goodwill with a bunch of second-place trophies to donate," Fisher said. "But I told her she gave it as good as she got it."

While the pandemic has left Fisher comfortable at home in Charlotte, where she hasn't picked up a cue since winning January's WPBA Ashton Twins Classic in Calgary, Canada, her 58th win on tour, the women's circuit is a far cry from where it was in the late '90s and early '00s. The Great Recession in 2007 dealt a critical blow to a Classic Tour that was already showing signs of faltering. With money tight and sponsors trying to stay in business, events became fewer and further between. What tournaments were held often had prize funds a fraction of past years.

"I'm so thankful for the time we had," Fisher said. "It was so sad when things started to plummet. Casinos started to pull out one by one and we didn't have a plan B. It's just so sad."

Wins And Losses

If you can't win 'em all, Fisher did as well as any pool player before or since her arrival 25 years ago. But her cold, calculating demeanor at the table belies a warm, open personality that can get lost when she's dismantling an opponent. Her consistency at the table also may lend an air of invincibility to someone who is, after all, a human being when she's not at the table.

Looking back on her career, Fisher noted a few particular performances that stand out in her mind – some for good, some for not. One such championship occurred in 2000 WPBA Nationals in Mount Pleasant, Mich. For her entire career, her father, Peter, was a de facto coach. She'd call him after matches, win or lose, to dissect shots and decisions. She'd also get a pep talk when her father felt she needed one.

But on this cold January day, Fisher faced Vivian Villarreal in the championship while her father was near the end of his life, with a terminal lung cancer diagnosis. With a heavy heart, Fisher tried to shut out the real world and focus on the table. But on the hill, she broke the potential title-winning rack and the balls fell perfectly.

"I'll never forget it," Fisher said. "It was right there in front of me, and I immediately got choked up. I could feel it in my throat. But what could I do? I had to shove those emotions back down and keep myself together."






Fisher was snooker's queen before dominating the U.S. scene.



She did and she cleared the rack. She then called Peter and spoke to him after what was her last victory while he was alive.

"But I can also look back at my win at the 1995 Nationals and smile," she said. "That was the first time he saw me play and I won, so that's another memory that will always be with me."

Finding Home

Back in the mid-'90s, when Fisher told her parents she was headed to the U.S. to take on pool, they both thought she was crazy. But she was a 27-year-old woman who'd reach the top of her profession, who had traveled the world for her passion. That kind of focus did her well in establishing roots in pool and in the U.S.

"When you're in your 20s, you're not really thinking about a lot of other stuff," Fisher said. "But as you get older, you start to think, 'Wow, you know, that was pretty cool.' Moving to the U.S. will always be one of the best decisions of my life."

While not shutting the door on future competition, although the global pandemic may make that decision for her, Fisher has found contentment and happiness in the slower pace of family life. She now has a married partner, Dee Powell (the two were married in May 2019), helps raise a 10-year-old son (Pierson, hers) and 10-year-old daughter (Lilly, Dee's), has two dogs (Frankie and Buddy), a pontoon boat and a trailer. The competition that seemed to be her oxygen when she was younger now is only one priority in a life full of them.

"I put my life into the game," she said. "During the heyday of playing, it wasn't really conducive to a family life. I've been fortunate to find that later in life and to be happy about it. I loved all the travel. Still do. But I also love the full life we have now, helping create memories for the kids.

"Right now, I think I'm more light-hearted," she said. "Everything is not as intense as it was. When I'm at the table, that's the way I play the game – totally focused and with intention. But that's not always me and maybe that's why I am not playing a lot. I don't want to be so intense."

Outside of family duties, Fisher still thinks about her place in pool and the legacy that will be left in her wake.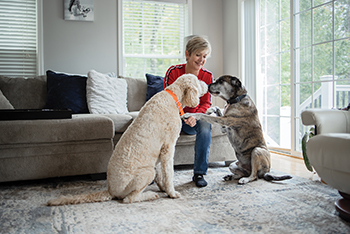 As Fisher the competitor comes closer to bidding the game adieu, Fisher the family woman is content with her marriage, kids, and Frankie and Buddy. (Photo by Jessica Henderson Photography)



"I love inspiring people and encouraging all different types of players," she said. "I've often had players come up to me and say they started playing because of me. Xiaoting Pan said her father had her watch videos of me while she was growing up.

"As a player, I'd like to be remembered for my consistency, my etiquette and grace. But also, on the other side of it, I want to be known as a fighter, as determined and focused."

No matter what's to come, what is known is that Allison Fisher will be remembered as one of the greatest to ever play the game.