Current Issue

Previous Page Page 3



The Snail's Tale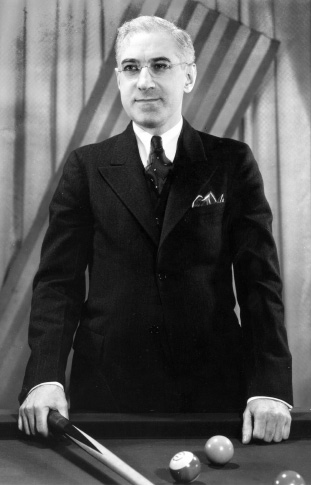 Taberski died in 1941 and was inducted into the Hall of Fame 34 years later.
Taberski would continue on his tear, winning challenge matches one after another. The rules then in effect obligated Taberski to defend the title every 40 days. So over the next year he accepted challenges from Edward Ralph, James Maturo, Louis Kreuter, Bennie Allen, Larry Stoutenberg, Joe Concannon and Louis Kreuter. Sometimes Taberski prevailed by wide margins, as he did with Kreuter who lost by 174-450. Sometimes he just barely eked by, as he did with Allen, who trailed by just two balls at the end. Against Concannon, Taberski made up an astounding 127-ball deficit. Then Taberski went on to beat Greenleaf, again. Taberski shot down 10 players in succession, all of them the world's best. It was an astounding feat, one without parallel in history. Frank Taberski in 1916 and 1917 was America's slowest gunslinger.

On November 3, 1917, during a reception in his honor, Taberski was presented with a bouquet of flowers from none other than Greenleaf. Although Nov. 3rd was coincidentally the Boy Wonder's 17th birthday, it was Taberski who rightly was being celebrated. The bouquet was a small token of the younger player's esteem, his recognition that Taberski was the best of the best. And this was not a minority opinion. Many believed at this moment in history that Frank Taberski was not simply America's finest living player, but the greatest player, ever.

And as I alluded to earlier, when Taberski's streak came to an end, it wouldn't be Greenleaf or any other player who would end it. Rather, Taberski himself put down his cue. Taberski's slowness, his aggravating, exasperating slowness, prompted tournament promoters in 1918 to institute a one-minute shot clock. Taberski disagreed and so no tournament was held that year. "However, the time limit was instituted in the 1919 championship, and Taberski refused to compete," writes Shamos in his New Encyclopedia of Billiards. Without Taberski in the way, Greenleaf won the world title in 1919. It was Greenleaf's first important victory.

The record gets a bit sketchy as to how long the shot-clock rule remained in place. What's clear is that Taberski did not return to championship competition for four years, and it was precisely during this period that Greenleaf first made his name. Taberski's top-of-the-heap absence was comparable to Muhammad Ali's after 1967. Without Taberski around, Greenleaf would win every world and national pool championship in America. A review of the records shows that these were arguably Greenleaf's best years.

Predictably, the occasion of Taberski return prompted much press speculation. It was 1923. Greenleaf had won or defended the title on 10 different occasions after Taberski's departure. Taberski had won or defended the title on 10 different occasions before he left. Who now would prevail? "I am a little rusty right now," said Taberski, speaking to a hometown reporter in August 1923, just as he was mounting his comeback. "I have not touched a cue all summer, but by time the league season opens in October, I will be ready to play at my best. I am looking forward to the games I will play with Greenleaf. He is a great player and to beat him, I realize that I will have to be at my best."

Greenleaf beat Taberski in that first world competition after The Snail's return, and also beat him two or three times in individual match-ups. But Taberski turned the tables in 1925 by placing first in the world tournament. This time Greenleaf placed second. And then in April 1926, Taberski was stripped of the title because he refused to defend it.

In later years Greenleaf would go missing, get arrested, and get banned. And yet he continued winning off and on through 1937. Taberski won the title again in 1927 and 1928. "The relatively few times they played (head to head) at the top level, they just about tied," says Shamos. "I'd say that if you put them up against one another it would be too close to call until booze got the better of Greenleaf."

Frank Taberski died in 1941 and was inducted posthumously into the Billiard Congress Hall of Fame in 1975. Ralph Greenleaf died in 1950 and was inducted into the Billiard Congress Hall of Fame in 1966. Greenleaf was the BCA's first inductee, ever.



Previous Page Page 3


Top
MORE VIDEO...