Current Issue

Previous Page Page 2 Next Page >



True Tales from the Derby City Classic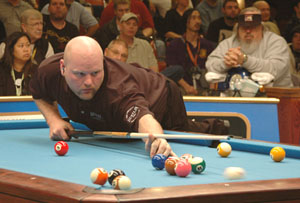 Nevel bowed to the intense Derby schedule, putting in 15-hour days. (Photo by Nicholas Leider)
Hurry Up and Wait

Larry Nevel walked into the tournament arena on Friday morning, Jan. 11, as one of six players left in the one-pocket division and one of 206 still kicking in 9-ball. A long day ahead was not so much a daunting prospect as the goal.

The grueling nature of Derby City is legendary. If you're fortunate enough to advance into the later rounds in one division, good luck. What little free time you had between rounds will be used to wedge in matches in other divisions.

A quirk that is alone Derby's, the redraw process - an altered double-elimination format to allow players one re-buy, while matchups are decided on a round-by-round draw - exemplifies the slogging nature of the tournament.

Nevel's thunderous break smashed its first rack of the day at 11:14 a.m. From then on, his cues would barely have time to catnap in his case, in use until the last 9 ball of his "day" dropped at 2:45 a.m. Saturday morning.

In his 15-hour shift, Nevel survived four rounds in 9-ball and took second in one-pocket. Gabe Owen captured the one-pocket title at 1:37 a.m., and if Nevel was the sulking type - yeah, right - he didn't have time for that; he was back at the table for a 9-ball match just 19 minutes later.

"When I was younger I was in shape for this," Nevel said, half-joking. "It definitely takes a toll on you, mostly just the standing around. I usually just walk around, where a lot of people might go back to their room, which is probably the smart thing to do."

Preferring to stay in the tournament mindset rather than return to his room to doze off to reruns, Nevel wouldn't have been able to get much rest anyway. His longest period of downtime was barely more than an hour.

The next morning after six hours sleep, he was eliminated from the 9-ball division, losing his 11 a.m. match to Francisco Bustamante, the eventual winner of the 2008 All-Around crown.

One day Nevel's packing up his cue well after last call, and the next he's done in time to catch the lunch buffet.


Previous Page Page 2 Next Page >

Top