Headstring News
Matchroom's World Events Air on Fox Sports Network
Jun 24, 2008, 5:04 PM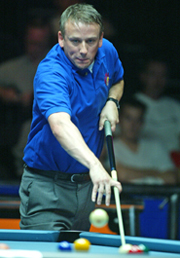 Engert's title-clinching win at the WPM will be featured this week.
ESPN isn't the only place to watch pool on TV. Fox Sports Network is featuring matches from the 2007 World Pool Masters and 2007 World Cup of Pool for the remainder of June and the whole of July.

FSN is divided into regional networks across the U.S. (such as FSN Midwest and FSN Rocky Mountain), so you need to check your local listings for airdates and times. A lion's share of the networks are slating the programming for late morning and early afternoon.

The viewings mark a return to FSN for U.K.-based Matchroom Sport, producer of both events as well as such highly regarded fare as the Mosconi Cup and World Pool Championship. Matchroom has been providing FSN with pool programming steadily since 2003.

"Hopefully, our relationship with Fox will continue to grow and they will air more and more of our billiards productions in years to come," said Luke Riches, media director for the worldwide sports promoter. "Matchroom Sport also supplies Fox with many hours of championship darts, tenpin bowling and some poker."

The FSN networks will feature the final match of the 2007 World Pool Masters — won by Germany's Thomas Engert — over the remainder of June. In July, the networks will carry five one-hour programs from the 2007 World Cup of Pool — won by China — typically on a weekly basis.

Comcast New England and Comcast Philadelphia also will air programming from both events.