Headstring News
Junior Nats Crown Four Champions
Jul 20, 2010, 11:32 AM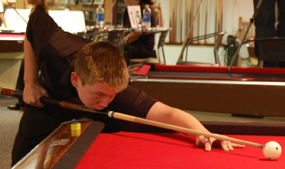 Shuffett took his fourth BEF Junior title with an unbeaten run in DeKalb, Ill.
Winning one junior national title is an accomplishment only a handful of teenaged pool players will ever experience — which is just what Landon Shuffett, Briana Miller and Liz Lovely want.

The three reigning champions defended their titles at this year's Junior National 9-Ball Championships. Organized and promoted by the Billiard Education Fund, this year's junior competitions were held over the weekend at Northern Illinois University in DeKalb, Ill.

In the 19-and-under boys' event, Shuffett went unbeaten to defend his win at last year's competition. On his way to the hot-seat match, Shuffett eked past last year's 14-and-under champ Brendan Crockett, 9-8. He then edged Jesse Engle in the hot-seat match by the same count. Engel edged Crockett in the left-side final, but Shuffett was not to be denied. He edged Engel in the extended final, 11-7. Along with titles in the 14-and-under division in 2007 and 2008, Shuffett has now won an incredible four consecutive titles at the BEF Junior Nationals.

Briana Miller joined Shuffett as another four-time titlist with her win in the 14-and-under girls' division. She rolled through her four matches, conceding just two games en route to the title. Just 14 years old, Miller will be one to watch as she graduates to the 19-and-under division in 2011.

In the elder girls' division, Liz Lovely took her second consecutive title, though she had to survive a trip to the one-loss bracket to do so. Losing a hill-hill set to Stephanie Stone, Lovely won five matches on the left side, including a 7-1 win over Stone to work her way back to the final. There, she edged Jauslinn Arnold in an extended set, 9-6.

In the 14-and-under boys' division, Billy Thorpe took his first title in thrilling fashion in a tight final against Kevin Sun. On the hill, 8-7, Sun pocketed what he thought to be a championship-clinching 3-9 combo — only to realize the 2 ball was still on the table. Thorpe cleared that rack and took the next for the 9-8 win.