Headstring News
Taiwan Tops Team Worlds
Jul 6, 2012, 2:24 PM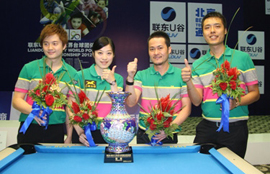 Chang (left) adds a World Team title to his 2012 World 8-Ball crown.
(Story by Ted Lerner-WPA)

Joy riding a powerful wave that had been building steadily all week, the four-member Taiwanese pool team cruised to an emphatic 4-0 finals victory over Japan to lay claim to the 2012 World Pool Team Championship in Tongzhou, outside of Beijing.

Today's performance was yet another statement from Taiwan's fearsome foursome of Chang Jun Lin, Ko Pin Yi, Fu Che Wei and female player Chou Chieh Yu. They were barely touched all week, and they showed the pool world how great individual talents can come together and perform as a well-oiled machine.

For the Japanese, their always-smiling faces never seemed to go away, but their good fortune did. Japan had lived on a high wire for the last two days, winning two straight sudden-death shootouts to advance in the event.

Taiwan, though, made sure the finals never even got close to an anything's-possible shootout. Backed by the more than 400 fans inside the Tonghzhou High School gymnasium, who had obviously taken to their cross-strait cousins after both Chinese squads had been eliminated, Taiwan came out guns blazing. In the opening match of 8-ball doubles, the duo of Chang and Ko walloped Naoyuki Oi and Yukio Akakagariyama, 6-0, to give Taiwan a 1-0 lead.

Japan looked like they would make a match of it in the second of the six scheduled matches, this one the 8-ball singles. Japan's Toru Kuribayashi was up 5-2 in a race to 6, but a tenacious Fu clawed his way back. Tied at 5, Kuribayashi had the break shot but he scratched on the bust out, and Fu stepped up to clear his colors for the win, and a 2-0 finals lead.

That missed opportunity signaled the beginning of the end for Japan, as Taiwan pounced like an anemic shark after fresh blood. Indeed Chou Chieh Yu took her turn in the women's 9-ball singles against Japan's Chihiro Kawahara and won easily, 8-2. Chou has been a rock all week for Taiwan, playing solid pool with little fanfare. Just the kind of no-nonsense teammate required to win world titles.

The score was now 3-0 in favor of Taiwan and the Japanese, along with the fans in attendance, sensed the end was very near. The always strong Ko Pin Yi then confirmed the storyline, and the title, with a strong performance in the men's 10 ball singles, handily defeating Yukio, 7 – 4.

After collecting the cash, a beautiful vase, fresh flowers and the accolades of the fans, the players of Taiwan joked with their Japanese counterparts and exchanged congratulatory handshakes and slaps on the back. There were absolutely no hard feelings about the result. Taiwan had dominated the event all week, and they closed it out in style, all the while offering others a lesson in the ways of a team in a sport normally played alone.

"I think the reason we played so well all week is because we are all good friends," Ko said through an interpreter afterward. "Each one of us knows exactly how the other plays on the table, how they shoot. Pool is usually a game you play alone and there's a lot of pressure in singles. But here you have your teammates to pick you up, to give you advice and courage."

For winning the 2012 World Pool Team Championship, Taiwan collected $80,000 while Japan earned $40,000.