Headstring News
Mosconi Cup Preview: Keep Your Bets on the U.S.
Dec 11, 2007, 6:06 PM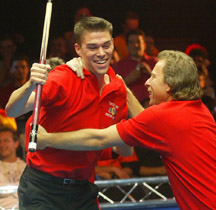 Will Deuel play hero again for America?
Thereís a simple rule in betting: Ride the streak.

Itís a pretty straight-forward, logical argument. If a team (or player) has won, say, seven games in a row, or 19 out of 20 games, itís safer to keep betting that team until it loses than it is to accurately guess when that streak is going to come to an end.

Letís take the Mosconi Cup, for instance, which will run this year from Dec. 13-16 at the MGM Grand in Las Vegas. The annual transatlantic team 9-ball tussle, produced and promoted by the sportís premier match-maker (did anyone seriously think Kevin Trudeau would unseat Barry Hearn as the gameís top promoter?), has been played 13 times since its debut in England in 1994. Even with less-than-representative squads in place for both sides during the first three years (Lou Butera? Mike Gulyassy? Vincent Facquet? Alex Higgins?), Team USA was 2-1.

But since 1995, when Matchroom focused on pitting the very top Americans against the best Europe could offer, Team USA has gone 8-1-1. (For some still inexplicable reason, the 2006 Cup resulted in a 12-12 tie, with the U.S., as defending champ, retaining the trophy.)

That, my friends, qualifies as a streak. Losing twice in 13 years also qualifies as a streak.

The moral of this story? Team USA will beat Team Europe in the 14th edition of the Mosconi Cup.

Is it a lock cinch?

Of course not. This isnít the Harlem Globetrotters vs. the Washington Generals here. The overall success of European players in recent years, and the lack of American champions during the same period, has been well-documented and discussed ad naseum.

In fact, there are plenty of reasons the Americans should lose. How many more years can Earl Strickland and Johnny Archer be counted on to lead Team USA? Strickland is four years away from qualifying for an AARP card, and Archer is months away from his 40th birthday. Even Morris, at 37, is getting up there. And his part-time approach to pool these days is evident in his recent performances. Strickland, Archer and Morris all gave sub-par efforts at the 2006 Mosconi Cup, and were lucky to escape with a tie ó saved at the bell by Mike Davis and Corey Deuel, who rejoins the squad in 2007 with Cup debutante Shane Van Boening.

Team Europe, meanwhile is anchored by 11-time Mosconi veteran Ralf Souquet, who was far and away the best player at last yearís Cup in Rotterdam. Souquet is still one of the gameís most consistent players, as evidenced by his No. 1 ranking in the Billiards Digest Power Poll in 2006 and 2007. Souquet is joined by newly crowned World 9-Ball Champion Daryl Peach of England, Hollandís solid Niels Feijen. Euro Tour No. 1 Konstantin Stepanov and former snooker champ Tony Drago of Malta.

So why will the U.S. still prevail?

The switch to five-man teams (from the traditional six-player squads) favors the U.S. With only five players, neither team can afford to carry dead weight. Look past the leaders, and whose last two do you like? Iíd take Deuel and Van Boening hands down over Stepanov and Drago.

And look at the top. In any kind of playing shape, the trio of Archer, Strickland and Morris has to get the nod over Souquet, Feijen and Peach ó world championship notwithstanding.

Throw in the fact that Europe will be without Mika Immonen, left behind after 11 straight Cup appearances and Team Europeís best individual record. Despite his monumental collapse in 2006, Immonen, more than any other European player, was the guy the U.S. annually feared most.

Still not convinced?

Then simply go back to the record books. Ten wins, two losses, one tie in 13 years.

Take that to the betting window.