Hottest threads from the Cue Chalk Board

Headstring News

Top Story
Mosconi Cup Captain Mark Wilson has announced his roster of Team USA hopefuls.
5 Most Recent Headstring News Items
• BD's George Fels Dead At 75
• BCA Hall of Fame Banquet TIcket Deadline
• Larry Hubbart Passes
• Black Widow & Barry Hearn BCA HOF Bound
• BD Stroke of Genius Hits YouTube
Click to view the HeadString News archive.

More Videos
> 2010 BCA Hall of Fame
> 2009 BCA Hall of Fame
> Keith the Hotshot Tyke
> Top Pool Vids on Web
---
Straight Shooters
News, Opinions, Advice and More...

Advice
Jeanette Lee
• Mar: Selecting A Cue
• Feb: Men vs Women
• Sept: Couples Therapy

From the publisher
Mike Panozzo
• Mar: Three's Company
• Feb: Letter To A Friend
• Sept: Barry Extraordinary

Tips & Shafts
George Fels
• Mar: One Road, Two Joes
• Feb: Continuous
• Sept: When Friends Pair Off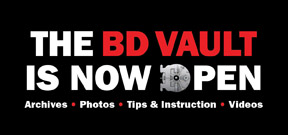 MORE VIDEO...