Current Issue
Next Page >
2009 Best New Room: Fargo Billiards (Fargo, N.D.)
Mike Page's dream room looks like the fantasy hall for every cue-toting player in North Dakota. (Photo by Mike Fieldhammer)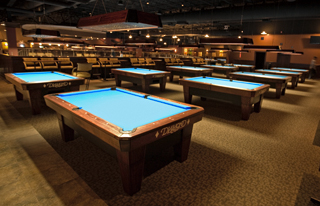 A DECADE ago, Mike Page put his adopted hometown in the upper Midwest on the map - among pool players, at least - by creating "Fargo," a single-player practice drill that combines aspects of 9-ball and straight pool.

Now, he's got bigger plans.

Fargo Billiards & Gastropub is Page's latest project, one that has seen the retired professor build what he calls his dream poolroom. And from the looks of things, when Page lays his head down at night, he dreams big.

The winner of this year's Best New Rooms contest, Fargo Billiards sits on the southwestern edge of the downtown area near the intersection of Interstates 29 and 94. Boasting a total of 58 tables spread over a total space of 28,000 square feet (28,532 feet, to be exact), this room is certainly massive, but the idea was to create something more than just a billiards warehouse.

"We don't want you to feel like you're in a Wal-Mart with pool tables," Page said. "We really went out of our way to create a sense that you're in a big place, but also a sense of intimacy wherever you are."

Developing that kind of feel isn't exactly easy in the biggest poolroom in the nation (at least in total area; Shooter's Billiard Club in Burnsville, Minn., tops out at 65 tables and 22,000 square feet). The room fits together by divvying up the tables into different sections, like the league area that houses 20 7-foot Diamonds along the northern wall. The Gastropub - a combination lounge-restaurant area - sits in the middle of the room, raised up from the main floor, so visitors can survey the vast landscape of tournament blue cloth while noshing on burgers or making the most of happy hour.

And that idea - the incorporation of the dining tables and lounge into the room as a whole - is a stark departure from a number of top rooms we've covered in recent years. Some higher-end rooms wanted to sequester the billiards room from the restaurant or night club. But Fargo flips that idea on end. And in bucking the trend of separating each area, so the sight lines of diners and pool players never cross, Page offers a glimpse into his greater purpose for Fargo Billiards.

"I look at the restaurant and the bar and lounge areas as not just [a source] of extra income," he said. "I look at them as vehicles to introduce people to pool. They are ways to get people in here, and get them to feel comfortable and to recognize this is a place they can feel comfortable."

While he's a man undoubtedly smitten with the game and wants to spread the gospel, Page's intent on growing the game is quite practical. If he's able to introduce a new player to the game, he's created demand for what his place has to offer.

"It's great to see great players play and they can certainly do that here," he said. "But I think one of the really enticing things for people is to see bad players out there. A lot of people come to eat or to have a drink, and they think the tables are nice but they don't play pool. But if they look out and see people who are just like them, just kind of batting the balls around and having fun, they might give it a try."

Luckily, if a few rookies take to the game a little, Page is more than ready to help them make the transition from ball-batter to a fledgling pool apprentice. With three BCA certified instructors available for lessons, Fargo has a full-fledged billiard academy. (After all, Page spent 17 years in the chemistry department at North Dakota State University. What'd you expect?)

With pool the main attraction at Fargo, Page kept much of the decor simple, letting the gentle earth tones operate as a backdrop to the vibrant blue of Simonis tournament cloth stretched across the tables. But it's not all muted simplicity, with a collection of paintings lining the walls. Page called in an old colleague to splash a bit of color around the room. He commissioned Kimble Bromley, a visual arts professor at NDSU and a pool player, to paint a series of works. He returned with 16 individual pieces, one for each of the 15 object balls plus one for the cue ball.

At Fargo Billiards, even the paintings on the wall are working to get more people involved with the game - and Mike Page would have it no other way in his dream room.