Player: Alex Pagulayan
Event: U.S. Open 9-Ball Championship
Location: Chesapeake, Va.
Date: Oct. 22, 2011
BY THE time Alex Pagulayan and Darren Appleton made their way to the hot-seat match at the 2011 U.S. Open 9-Ball Championship, few could argue the two former champs didn't deserve to be on the doorstep of another appearance in the final.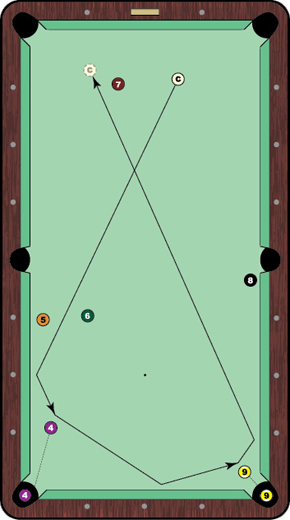 Through the course of the opening week, Appleton, the defending champ, and Pagulayan (2005 champ, 2002 runner-up) separated themselves from the 251-player field with equally dominant performances.
In the opening rack of the race to 11, Appleton ceded control of the table after he missed a billiard on the 9. But the crafty Englishman played a bit of a two-way shot on his attempt at the game winner, leaving Pagulayan the tricky layout shown in the diagram.
With the 6 standing between the 4 and the cue ball, Pagulayan saw an opportunity to go rail-first. Not only that, the cue ball had a natural angle toward the 9 in the lower right corner. Erasing any doubts about his grand scheme, Pagulayan dropped his cue along the short rail to show himself the path of the cue ball. And just like that, the impish Filipino sent the cue ball into the long rail with a bit of left English. It obediently kicked the 4 ball into the corner pocket and then nicked the left side of the 9 on its way back up-table. The 9 clipped a tiny piece of the pocket point before falling, giving Pagulayan and early 1-0 lead.
While plenty capable of making his own opportunity in Rack 1, Pagulayan would run out of chances against Appleton. With the match knotted, 6-6, the Brit minimized the Lion's chances, as Appleton took the set, 11-6, before thumping Shawn Putnam in the final for a second straight U.S. Open crown.
(Video clip provided by
Accu-Stats Video Productions
.)
(Check out Accu-Stats' full library of great shots and amazing matches at www.accu-stats.com)