Player: Tony Ellin
Event: Sands Regency Open XXII
Location: Reno, Nev.
Date: December 10, 1995
IN A game as fickle as professional 9-ball, great shots can pop up well before the nail-biting case game. The brilliance of a single stroke can happen mid-match, when there's still plenty to be decided between the two competitors. Take this example, from the left-side final of the 1995 Sands Regency XXII in the Biggest Little City in the World.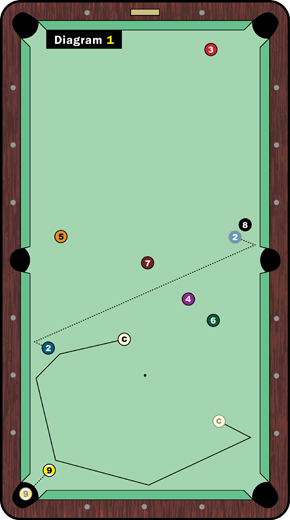 Tony Ellin and Rodney Morris, at the time a Hawaiian hotshot making a name for himself among the country's elite, had both dropped sets to hot-seat owner Johnny Archer. The two opponents, hardly lacking in the firepower department, blasted through the first 10 racks with Ellin grabbing an early 6-4 lead in the race to 11. Early in the 11th frame, Ellin missed a risky 2-9 carom but left Morris only an indirect path to the blue ball. He kicked the 2, leaving the situation shown in the diagram, which didn't appear all that bad for the Rocket.
But Ellin had opening enough to close out the rack quickly. Instead of listening to Accu-Stats commentator Billy Incardona, who advocated a cross-corner bank that sent the cue ball up-table for the 3 ball, Ellin had his sights set on the 9.
Despite a rather flat angle from the 2 to the 9, Ellin loaded up on left English and sent the cue ball into the long rail and spinning out toward the 9. The cue ball clipped the 9 perfectly, which fell in the corner pocket for the win. The 2 ball banked cross-side, missing the pocket by a hair.
Boosted by this shot, Ellin worked his way onto the hill, 10-7. But Morris saved the best for last, and he closed out a thrilling 11-10 comeback win. In the final, though, Archer again proved to be king of the hill as he took the title, 11-8.
(Video clip provided by
Accu-Stats Video Productions
.)
(Check out Accu-Stats' full library of great shots and amazing matches at www.accu-stats.com)