Player: Danny Smith
Event: Accu-Stats "Make It Happen" One-Pocket Invitational
Location: Edison, N.J.
Date: June 28, 2015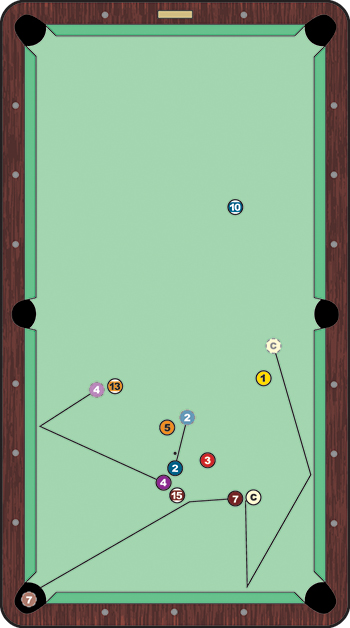 Most entries in our Stroke of Genius catalog have had the benefit of time to truly earn their position among the highlights of pool, no matter the discipline. This month's attempt, though, is about as close as you'll get to an instant classic. American journeyman Danny Smith faced Efren Reyes in late June in the one-pocket version of Accu-Stats' "Make It Happen" series of round-robin tournaments. Facing Reyes, Smith lost the third game in the race-to-3 set to fall behind 2-1. In game four, Reyes collected the first four balls until Smith dropped a pair but then found himself in the unfortunate position in the diagram. Shooting for the bottom left pocket, Smith didn't have much of an angle on anything. He eyed up a possible combo or kiss on the 7, but the three-ball cluster sitting around the foot spot didn't offer much. To add to the degree of difficulty, the 60-second shot clock continued to tick as he went from one object ball's ghost to the next. Smith turned to the referee with 15 seconds remaining to use his one extension, but quickly learned he'd already burned it. Smith then hastily lined up a kiss shot for the 7 off the 15 and into the bottom left. He drilled it perfectly, using backspin to bring the cue ball off the foot rail and right long rail. The rest of the object balls drifted to the left, giving Smith plenty of options to get his next five balls and win the game. He finished the impressive eight-and-out, then topped Reyes in the fifth set for the win. But, as pool fans are accustomed to seeing, Reyes had the last laugh. In the the championship, Reyes topped Smith, 3-1, for yet another one-hole title.
(Video clip provided by
Accu-Stats Video Productions
.)
(Check out Accu-Stats' full library of great shots and amazing matches at www.accu-stats.com)