Player: Phil Burford
Event: U.S. Open 9-Ball Championships
Location: Virginia Beach, Va.
Date: Oct. 22, 2012
LIKE A few previous entries in our
Stroke of Genius
compendium, this shot by Phil Burford at October?s U.S. Open 9-Ball Championship was set up by his own hand. After dropping his opening set, Burford faced Albanian Nick Malai in an early elimination match on the left side. Down 6-4 in the race to 11, the young Brit had a tough angle on the 6 ball along the foot rail. One not so easy option: Play position below the 7 ball, so he could then sink the 7 ball in the side pocket with a kiss off the 9.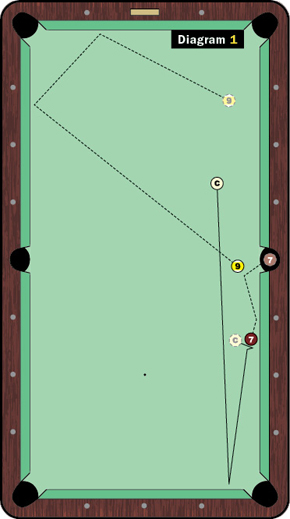 Instead, he opted to pull the cue ball back off the left long rail to get shape on the 7 ball for the bottom right corner pocket ? a more difficult position play that led to an easier shot on the 7. As you can see from the layout in Diagram 1, however, things didn?t go as planned. Burford hooked himself, with the cue ball crawling into a nearly straight line with the 7 and 9.
Still, he had that option of kissing the 7 ball off the 9, though now it would be complicated by having to kick the cue ball off the short rail. Considering it was so late in the game, Burford had few options. Lining up with a bit of left English, the 22-year-old sent the cue ball off the rail and almost squarely into his target. The 7 glanced off the long rail and into the 9, where it then took a right turn and fell in the side pocket. The 9 ball then went two rails and fell in line with the cue ball for an easy shot in the top right corner.
Propelled by this multifaceted kick-bank-kiss, Burford stormed back for an 11-8 victory en route to four straight wins on the left side. He eventually fell to countryman Daryl Peach for a strong 33rd-place finish.
(Video clip provided by
Accu-Stats Video Productions
.)
(Check out Accu-Stats' full library of great shots and amazing matches at www.accu-stats.com)