Player: Jung-Lin Chang
Event: International 9-Ball Open
Location: Norfolk, Virginia
Date: October 25, 2018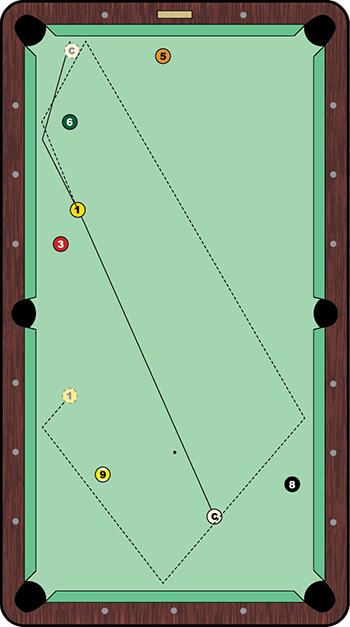 This month's entry in our "Stroke of Genius" series is a piping-hot highlight from October's International 9-Ball Open. The star-studded event attracted 113 of the world's best to Norfolk, Va., and featured a tasty winners-side match between Taiwan's Jung-Lin Chang and Scotland's Jayson Shaw.

Up 8-4 in the race-to-11, Chang obliterated the rack and sank three balls on the break. But left with the layout shown in the diagram to the right, the lanky world-beater didn't have much to play with. The 1 ball was blocked from the top left corner by the 6. A push-out didn't seem likely, with the 1 ball sitting fairly open along the long rail.

Commentators Mark Wilson and Jeremy Jones discussed several defensive options, but the cue ball's angle into the 1 limited the options for getting safe. Chang saw a sliver of space to send the 1 ball on a route around the table while hiding the cue ball on the head rail.

With a firm stroke, he hit the 1 nearly full, sending it to the left of the 6 and off the two rails in the top left corner. While it strolled down table, the cue ball followed forward, clipping the long rail before coming to rest an inch from the head rail. The 1 eventually hit five rails on its way to a resting spot along the left long rail — with the 3 and 6 balls as obstacles between it and the cue ball.

The clever shot was a near-perfect safety. Chang left obstacles, distance and blocking balls between the cue ball and the 1. Shaw showed his appreciation for the effort, tapping the rail with his chalk. Chang went on to defeat Shaw, 11-5, and eventually conquered the championship with a 13-11 win over countryman Ping-Chung Ko.
(Video clip provided by
Accu-Stats Video Productions
.)
(Check out Accu-Stats' full library of great shots and amazing matches at www.accu-stats.com)