Player: Danny DiLiberto
Event: Lexington All-Star Open III
Location: Lexington, KY
Date: Sept. 27, 1989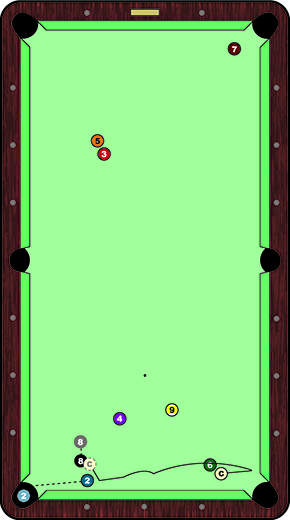 If aggresive, offensively minded 9-ball is analogous to a heavyweight title fight, safety play may be more like a chess match. The goal in both endeavors is to subdue your opponent, though one is a little more hands-on than the other.

At the Lexington All-Star Open in 1989, Danny DiLiberto and Johnny Archer didn't waste time locking up in a battle of wits in a safety exchange in the second rack of the race-to-11 set. DiLiberto regained control of the table after scratching on the break, but he knew playing position across the length of the table for 2 was going to be difficult, with the blue ball tucked behind the 8. He eventually played safe, but left Archer an angle on the 2. The Scorpion replied with his own defensive play, leaving Danny D in the position shown in the diagram.

With the cue ball nearly frozen to the 6, DiLiberto didn't have a friendly angle to make contact on the 2. Commentator Billy Incardona suggested intentionally fouling in order to tie up other balls to complicate Archer's route to the 9. DiLiberto, however, saw another possibility that was a bit unorthodox. Elevating the back of his cue, he took aim on the cue ball directly into the right long rail — in the opposite direction of the 2. His plan: Strike down on the cue ball so it will be slightly elevated when it hits the rail. It will then rebound over the 6 ball en route to contact with the 2.

DiLiberto struck the shot perfectly. The cue ball hopped over the 6 and took a few bounces before kicking the 2 into the corner pocket. Unfortunately, after such a great shot, he was left snookered behind the 8. DiLiberto failed to make a legal hit on the 3 and Archer won the rack. But DiLiberto would have the last laugh in this match, as he ran away from the future superstar for an 11-2 victory.
(Video clip provided by
Accu-Stats Video Productions
.)
(Check out Accu-Stats' full library of great shots and amazing matches at www.accu-stats.com)