Player: Corey Deuel
Event: 2017 Accu-Stats "Make It Happen" 8-Ball Invitational
Location: Edison, N.J.
Date: November 11, 2017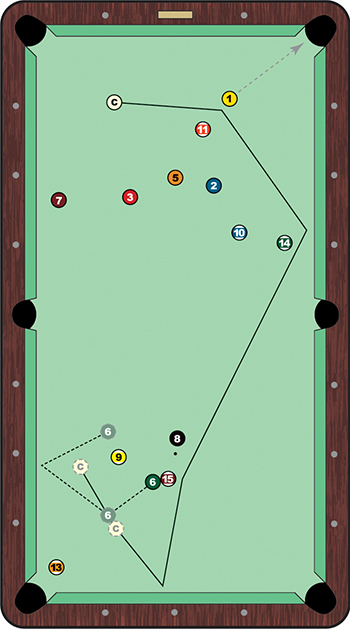 Professional players approach 8-ball, in the most basic sense, the same way as amateurs. Most folks at league night know that you have to plan ahead — and plan to handle problems. But the distance between a plan and one's actions is a little larger for Joe Six-Packs than, say, Corey Deuel.

At the Accu-Stats "Make It Happen" 8-Ball Invitational, the American was up, 8-6, in a race to 10 against Dennis Orcollo in the round-robin event. The Filipino, having to "take what he makes" on the break, missed a shot on the stripes. Deuel was left with the position shown on the 1.

The problem? The 6 ball is a problem, locked up with the 15 and tucked behind the 8. Deuel had to get creative to free that ball from its prison. Not only was the 6 frozen to the 15, it was also blocked from its natural pocket in the lower left corner of the diagram. Deuel used a firm stroke to send the 1 into the top corner, while the cue ball snuck around the 14 along the long rail.

The cue ball then made a beeline for the edge of the 15, which was only partially exposed behind the 8. It clipped the side of the stripe, sending the 6 toward the opposite long rail. The cue ball rebounded from the bottom rail and knocked the 6 off the long rail and into position behind the 9.

The 6 was liberated and Deuel had options to send it to a few pockets. The runout, at least for Deuel, was fairly simple at this point. He cleared the solids and went on to win this rack and the match, 10-6.
(Video clip provided by
Accu-Stats Video Productions
.)
(Check out Accu-Stats' full library of great shots and amazing matches at www.accu-stats.com)