Player: Jim Rempe
Event: 1999 American Seniors Open
Location: Portland, Oregon
WHEN JIM Rempe faced Nick Varner in the final of the American Seniors Open in 1999, it wasn't like the two were content to slap a few racks around in the name of nostalgia. Both in their early fifties at the time, the Hall of Fame pairing were still capable of some high-octane 9-ball, as evidenced in this single race-to-11 set.
With both players on the hill, Rempe broke open the deciding rack but failed to drop a ball. Varner then pushed out, was given the shot, and missed the ensuing kick on the 1 ball.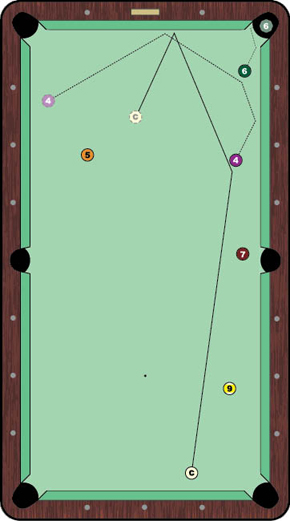 Thanks to the event's using "call shot" rules, Rempe had the option of giving the shot back to Varner, which he did. The Kentucky Colonel then fouled on his second kick at the 1.
But Rempe, with a number of roadblocks on his route to victory, had his hands full. After making the 8 with a carom, he was forced to sink the 3 and leave himself in the position shown in the diagram. As you can see, not much presented itself. He'd have to get creative - which he certainly did.
Rempe played an incredibly aggressive shot, sending the 4 ball off the long rail and into the 6, which then rattled and fell in the upper right corner. The 4 ball and cue ball then both rebounded off the short rail and into the position shown in gray. King James then faced a cross-corner bank on the 4 - a shot that, with only four other balls left on the table, would decide the match. Rempe easily sank the bank, and erased the 7 and 9 for the title.
After the match, he offered a glimpse into his thought process when approaching the rail-first combination. "It's all the percentages," he said. "There, I didn't think I could go thin and play safe. I thought it was just as risky as the bank."
(Video clip provided by
Accu-Stats Video Productions
.)
(Check out Accu-Stats' full library of great shots and amazing matches at www.accu-stats.com)