Player: Shane Van Boening
Event: 2014 U.S. Open 9-Ball Championship
Location: Chesapeake, Va.
Date: Oct. 18, 2014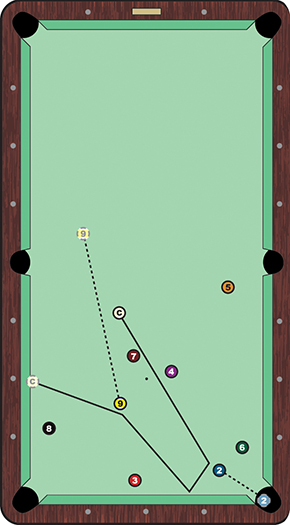 To say Shane Van Boening feels at home at the U.S. Open is like saying a fish feels at home in water. Blasting his way to the final of the 2014 championship as a two-time defending champion, the American combined superior shot-making with precision position play to face Dennis Orcollo, his foe from the 2013 final. The modified race-to-13 final opened with the two superstars splitting the first 12 racks. But when Orcollo failed to send two balls past the side pockets, the Filipino handed the table to Van Boening. Playing the 1 in the side pocket, Van Boening erred a bit on position for the 2 ball. As shown in the diagram, the 4 ball stood between him and a near 45-degree cut for position on the 3. Stacking two bridges and unsheathing his jump cue, he attempted a rather straightforward shot that depended on otherworldly execution. Commentator Mark Wilson deadpanned, "This is a shot you don't see every tournament." Wisely using his extension, Van Boening lined up the tricky jump shot on the 2 ball. He popped the cue ball over the 4 and perfectly into the 2. Not only did his object ball jump into the bottom right pocket, the cue ball then ricocheted off the 9 for perfect position on the 3 sitting off the bottom rail. He promptly ran out the rack to grab a one-game advantage in what was a predictably a dogfight of a match. In the end, Van Boening brought enough shots — perhaps not as spectacular as this — to win his third consecutive U.S. Open title, becoming the first player to do so. Combined with his 2007 win, the South Dakota Kid is positioned to present a heavy challenge to Earl Strickland's record five U.S. Open titles.
(Video clip provided by
Accu-Stats Video Productions
.)
(Check out Accu-Stats' full library of great shots and amazing matches at www.accu-stats.com)