Player: Darren Appleton
Event: 2017 U.S. Open 9-Ball Championships
Location: Norfolk, Virginia
Date: October 25, 2017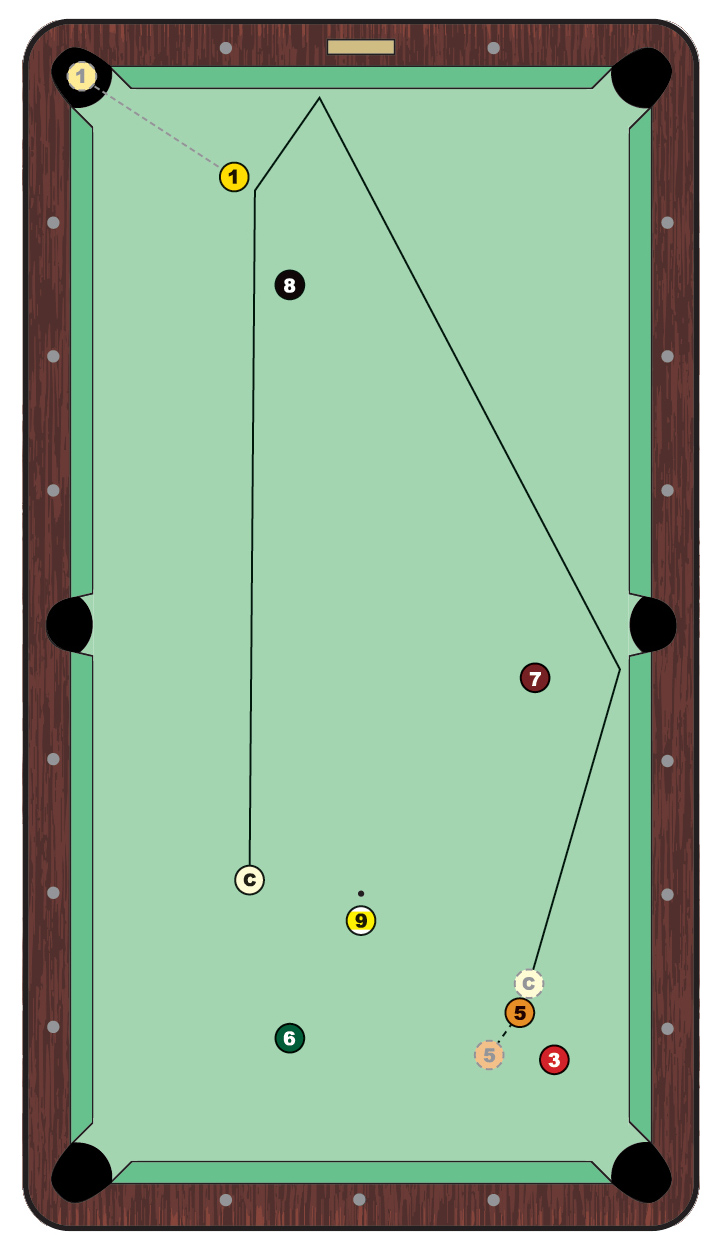 KACI Eklent turned in a breakthrough performance at last year's U.S. Open 9-Ball Championships. The 18-year-old ran through a stacked field to finish second (falling short to arguably the hottest player in the world, Jayson Shaw). One of the young Albanian's keystone victories came in the fourth round of the winners' side, against two-time U.S. Open champ — and newly enshrined BCA Hall of Famer — Darren Appleton.

While the Brit dropped the set, 11-8, he might've pulled off the most impressive shot of the match. Down 7-3 at the time, Appleton broke the 11th rack, pocketing two balls and facing the table shown in the diagram. He had an angle on the 1 ball for the top left pocket, but shape on the 3 ball was challenging. It was tied up with the 5 in the bottom right corner.

Mark Wilson, commentating for Accu-Stats, speculated Appleton would have to play position for a bank on the 3 ball. Alongside him in the booth, Chris Melling mentioned breaking up the 3-5 cluster, though scratching in the side pocket was a clear and present danger.

Appleton chose to thread the needle — playing two-rail position on the 3 ball with the cue ball clearing the 5 out of the way. Cueing at nearly center ball, Appleton sent the 1 ball into the upper right pocket, while the cue ball hit the head rail and headed past the side pocket. It hit the long rail and then made nearly full contact with the 5, which rolled a few inches toward the end rail.

The cue ball stopped in perfect shape for the 3, leaving Appleton an open table for the run out, though, again, he fell short in the set to the young up-and-comer.
(Video clip provided by
Accu-Stats Video Productions
.)
(Check out Accu-Stats' full library of great shots and amazing matches at www.accu-stats.com)