Player: Johnny Archer
Event: Derby City Classic Big Foot Challenge
Location: Elizabeth, Ind.
Date: Jan. 24, 2015


Leave it to any pro — OK, and any not-quite-so-refined player who may need an excuse in the near future — to tell you the importance of playing conditions. The table, the humidity, the lighting and myriad other variables can impact what goes on from head rail to foot rail. Considering this, it's even more astonishing when a great player can execute a shot perfectly. It's that much more ridiculous when that shot's margin for error is smaller than a piece of chalk dust.

At the 2015 Derby City Classic's Big Foot Challenge, Johnny Archer and Shane Van Boening matched up on a specially made 10-foot table. Van Boening took an 8-5 lead before he handed control of the table over to Archer in the position shown in the diagram. Considering the 6 was nearly frozen to the 10 and tucked behind the 9, the Scorpion didn't have many options.

Rather than send the cue ball into the cluster and pray, Archer had a more exact plan. With the slight angle on the 5 into the top left corner, he walked over to see if the 6 ball could go into the same pocket. It was the ball's only clear path to a pocket. It also required playing position within a matter of a few inches.

Archer sent the 5 straight into the corner and drew the cue ball back down around the 9 ball and into perfect position. The shot shows creativity and touch, but it also shows the bravery that comes with being one of the greatest of all time. This would be tough enough for any pro, even without the added difficulty of playing on an unfamiliar 10-foot table.

Right on cue, Archer missed the straight-in shot on the 6 for the top left corner. Van Boening then cleaned up that rack and rolled to an 11-8 victory.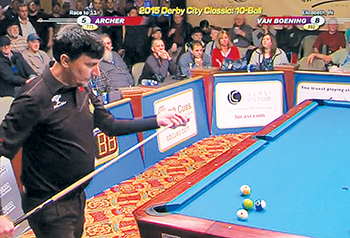 (Video clip provided by
Accu-Stats Video Productions
.)
(Check out Accu-Stats' full library of great shots and amazing matches at www.accu-stats.com)