Player: Joshua Filler
Event: 2017 Accu-Stats "Make It Happen" 8-Ball Invitational
Location: Edison, N.J.
Date: November 14, 2017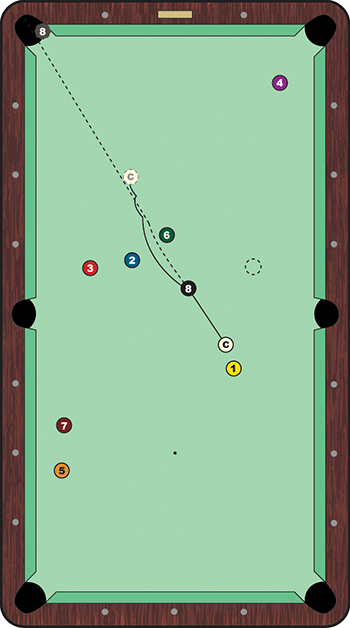 Joshua Filler was one of the shining stars of the 2017 pool season. The 20-year-old German knocked off the China Open before ending the year as the MVP of the Mosconi Cup as Team Europe won its eighth straight event.

But a month before getting under the skin of Team USA in Las Vegas, Filler stopped by the "Make-It-Happen" 8-Ball Invitational, organized by Accu-Stats. The six-player, round-robin event matched a handful of the game's best, with this month's entry in Stroke of Genius coming from a set with Filler against Filipino legend Dennis Orcollo.

With both players on the hill in the race-to-10, Filler began working his way through the stripes. The table wasn't overly challenging, but position from the penultimate ball to the 8 was a bit tricky. Filler had planned to sink the match-winning 8 in the left side pocket, with the cue ball stopping near the outline shown in the diagram.

The cue ball went long, however, so Filler had to come up with a new plan. The 6 ball partially blocked the 8 from the top left corner — but at this point, he didn't have much of a plan B.

Jacking up and aiming low on the cue ball, Filler glanced the cue ball off the top of object ball. The 8 jumped off the table just enough to clear the left edge of the 6, as it ran directly in the corner pocket. The cue ball then came to a stop inches in front of the contact point.

Perhaps it wasn't how Filler drew it up, but the shot clinched him a 10-9 win over Orcollo in dramatic fashion.
(Video clip provided by
Accu-Stats Video Productions
.)
(Check out Accu-Stats' full library of great shots and amazing matches at www.accu-stats.com)