Player: Shane Van Boening
Event: Accu-Stats "Make It Happen" 8-Ball Invitational
Location: Edison, N.J.
Date: November 7, 2014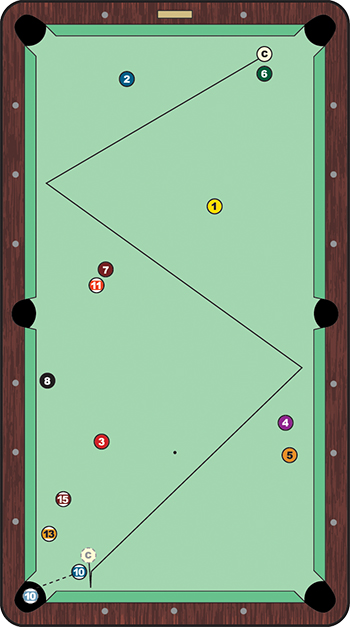 Every sport has moments. Bobby Thomson's 1951 "Shot Heard Round the World" that let the Giants win the pennant. Michael Jordan's game-winner against Cleveland in 1989, now known as "The Shot." Or Dwight Clark pulling down "The Catch" from Joe Montana in the 1982 NFC Championship. For pool fans, "The Shot" refers to the final of the 1995 Regency Open, where Efren Reyes pulled off an incredible full-table, two-rail kick shot. On an object ball nearly frozen to the middle of the foot rail. To get perfect shape for his next shot. In the case game.

This month's Stroke of Genius may not be headed for pool immortality, but the first one that comes to mind is that spectacular shot from Reyes more than two decades ago.

The second was at the 2014 Accu-Stats 8-Ball Invitational, where six of the world's best matched up in round-robin races to 10. Alex Pagulayan had solids. With nothing close to a clear path through the rack, the Filipino played safe by tucking the cue ball behind the 6 ball, all while his opponent's balls were on the other side of the table.

Unfortunately, that opponent was Shane Van Boening. The American had a creative solution to the conundrum shown in the diagram. Instead of kicking toward a ball and hoping for contact, Van Boening had a precise plan. Playing a two-rail kick that was surprisingly free of obstacles, he sent the cue ball along the perfect angle to clip the left side of the 10, so it headed straight for the bottom left corner.

Van Boening took this rack to knot the match at 1-1. Pagulayan, though, would have the last laugh, as he topped his frequent foe on the hill, 10-9, for a hard-fought victory.
(Video clip provided by
Accu-Stats Video Productions
.)
(Check out Accu-Stats' full library of great shots and amazing matches at www.accu-stats.com)