Player: Ronnie Alcano
Event: 2018 Derby City Classic - One-Pocket Division
Location: Elizabeth, Indiana
Date: January 19, 2018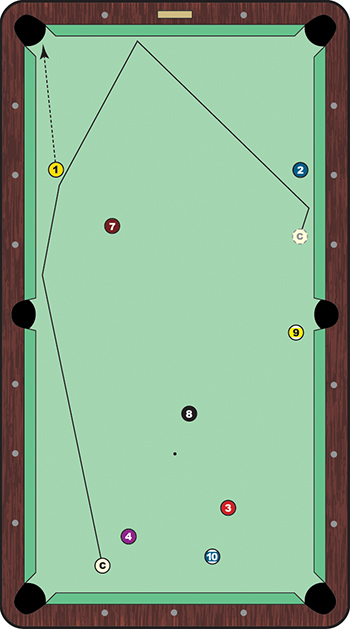 Now a main event among all that goes on at the nine-day Derby City Classic, the Bigfoot 10-ball Challenge started as an experiment. The single-elimination tournament asks 16 players to pony up $1,000 to play on a tight 10-foot Diamond table.

At this year's event, the field was so stacked, a first-round match pitted two-time world champion Ronnie Alcano against fellow Filipino Roberto Gomez.

In the race-to-11, Gomez broke the 16th rack trailing Alcano, 8-7. The two traded safes and kicks, Alcano came to the table with a long, direct angle on the 1 ball. A 10-foot, table-length shot wouldn't be much trouble for Alcano, but the 2 ball made this situation a little more interesting. It was sitting on the opposite long rail, nearly level with the 1. He could play safe, or he could sink the 1 and then go on the defensive. Alcano could try to drill the 1 and pull the cue ball straight back to create an angle on the 2.

But the lanky Filipino had another idea. With a decent amount of right English, Alcano sent the cue ball rail-first off, manufacturing an angle for position. The cue ball sent the 1 directly into the top left corner, then followed forward into the top rail. The cue ball's sidespin helped open its angle off the head rail. It barely missed the 2 ball, sliding into the long rail before stopping in perfect line for a shot on the top right corner.

Though Alcano produced the highlight of the match, Gomez came back for an 11-10 win. He then went on to win three more sets — including two more hill-hill victories — to take the $16,000 championship.
(Video clip provided by
Accu-Stats Video Productions
.)
(Check out Accu-Stats' full library of great shots and amazing matches at www.accu-stats.com)