Player: John Brumback
Event: Derby City Classic — One-Pocket Division
Location: Elizabeth, Indiana
Date: January 23, 2018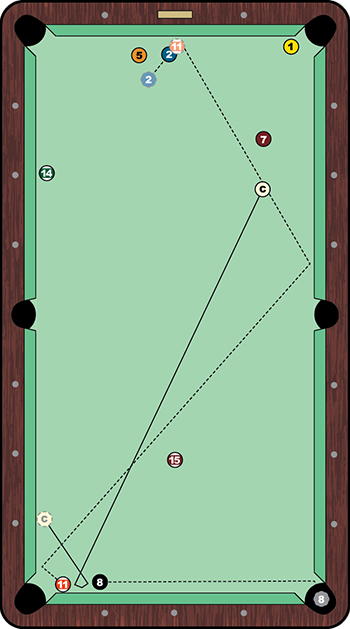 John Brumback has made quite a name for himself in the last decade at the Derby City Classic. A pair of 9-ball banks titles (2009 and 2010) and a Master of the Table award (2010) will do that. The Kentuckian feels at home in the Horseshoe Casino outside Louisville, but he wasn't too comfortable in a one-pocket match at last year's event. Facing Dennis Orcollo, Brumback was down 1-0 in games in the race-to-3, and down 7-0 in balls in the second rack. Coming to the table as shown in the diagram to the right, he had to clear the two balls from Orcollo's pocket in the bottom left.

See? Not an ideal spot.

With the 11 and 8 balls sitting near his opponent's pocket, Brumback had limited options. But "poke and pray" isn't much of a strategy in any one-pocket match, never mind when you're facing off against a player like Orcollo.

Without any offensive options, Brumback took aim at the 11 ball. But his plans included more than just popping the stripe out of the corner while cozying up to the 8. Rather, he hit the 11 into the bottom rail and back up-table, sending the cue ball to his left. It clipped the 8 ball at a perfect angle to send it across table and into his pocket. The cue ball then came to a stop a diamond up the left long rail.

Although Brumback erased two threats while pocketing his first object ball, he couldn't keep his Filipino opponent from getting the game ball. Orcollo took the second and third games for a 3-0 win.
(Video clip provided by
Accu-Stats Video Productions
.)
(Check out Accu-Stats' full library of great shots and amazing matches at www.accu-stats.com)