Player: Justin Hall
Event: Accu-Stats Make-It-Happen One-Pocket Invitational
Location: Edison, New Jersey
Date: June 25, 2015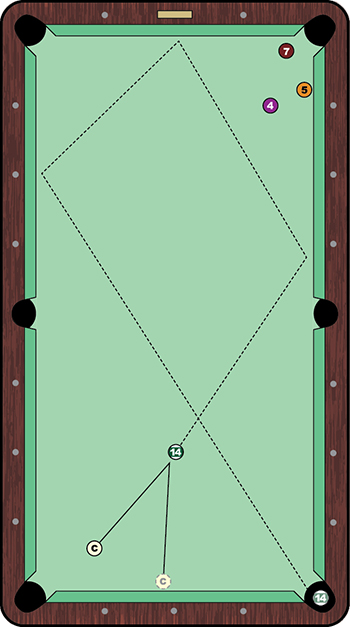 To the uninitiated, one-pocket can look pretty goofy. Players, often on the higher end of the skill spectrum, can look like they're batting and bunting balls around without any real plan. Those in the know, however, understand the grand plan. A player isn't trying to miss; he might be playing a ball with near pocket speed to stop near his corner. Or he is burying the cue ball behind a stack of object balls to put his opponent in jail.

The situation that produced this month's Stroke of Genius is another case in, "How the heck did that happen?" Alex Pagulayan and Justin Hall were in the first rack of a race-to-3 match at the 2015 Accu-Stats Make-It-Happen event, an invitational that put six top players into a round-robin to see who's the best of the best.

Hall had seven balls in his pocket in the lower right corner as shown in the diagram to the right. With four balls of his own, Pagulayan misplayed a safety on a quartet of balls near the top right corner. He accidentally sent the 14 ball into the pocket off a combo, meaning it'd be spotted with the cue ball roughly a diamond up and out from his pocket. Only needing one ball to win the rack, Hall had an angle for a one-rail bank off the top cushion. Instead, he sent the 14 off three rails, bouncing off the right rail a diamond north of the side pocket, off the head rail and back around toward his pocket with a little more than pocket speed.

The 14 went straight in the hole, while the cue ball died on the foot rail, showing the American had plans just in case his risky offensive attempt went awry. Hall kept up the pressure and took the match 3-1.
(Video clip provided by
Accu-Stats Video Productions
.)
(Check out Accu-Stats' full library of great shots and amazing matches at www.accu-stats.com)