Player: Shane Van Boening
Event: Southern Classic - 9-Ball Division
Location: Tunica, Miss.
Date: July 28, 2012
SURPRISE, SURPRISE. Alex Pagulayan and Shane Van Boening matched up in a high-pressure set - this time in the penultimate round of the Southern Classic's 9-ball division. The two superstars have a long history with one another, ever since a few pricey after-hour sets at the 2008 Derby City Classic. The ultra-cool Van Boening and ultra-amped Pagulayan are building an impressive rivalry, though it's certainly friendly and built on mutual respect.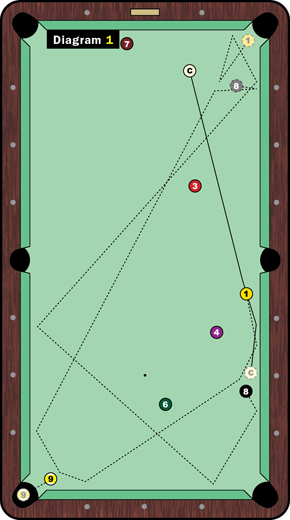 In the de facto semifinal round - the Southern Classic runs by the same modified double-elimination format as the Derby City Classic, where players can "buy back" in after their first loss - Pagulayan worked his way within two racks of victory, leading 5-3. Van Boening won the next, and then opened the 10th rack, leaving the table shown in the diagram.
Push out? Play a safety? How about: Play a ridiculous billiard that sends the 1 ball off the 8 and into the 9 for the win? Yeah, that sounds pretty good - at least if you have the skills of a Shane Van Boening.
Loading up on a draw, he drilled the cue ball nearly fully into the 1, which then clipped the 8 ball on its way to the foot rail near the first diamond to the right of the bottom corner pocket. The cue ball knocked the 9 directly in the corner pocket before rendezvousing with the 8 ball in the opposite corner pocket.
This dandy game-clincher brought Van Boening even with Pagulayan at 5-5. But the sprightly Filipino would not be deterred. He ended up winning the match to advance to the final, where he overcame a furious comeback from Johnny Archer to take the title - and $11,800 in prize money. Check out the full recap on pg. 38.
(Video clip provided by
Accu-Stats Video Productions
.)
(Check out Accu-Stats' full library of great shots and amazing matches at www.accu-stats.com)