Player: Efren Reyes
Event: Derby City Classic - One-Pocket Division
Location: Louisville, Kentucky
Date: January 21, 2004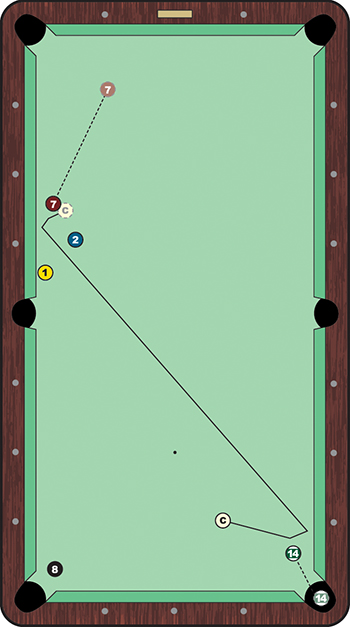 When Efren Reyes gets his own category on Jeopardy! — What? It could happen — the question for "one-pocket" will be, "What was Bata born to do?"

The evidence of his being the Greatest of All Time is overwhelming, but let's take a look at one more example in this month's entry to Stroke of Genius. At the 2004 Derby City Classic, Reyes rebounded from an early loss to Billy Palmer to earn a rematch in what was effectively the semifinal.

In the first rack of the race-to-three, Palmer was up two balls, 6-4, and in good shape, with the 8 ball near his pocket and three more on his side of the table. Reyes had a gimme on the 14 ball — but after that? It looked much more difficult.

The Magician, though, saw an opening with his position after sinking the 14. If he could slide the cue ball in between the 1 and 2 and into the 7, he just might have an angle on the 2 into the lower right corner.

This is the kind of shot that'd be dismissed as a one-in-a-million position play. It's fairly straightforward, though the margin for error is infinitesimal. But, again, we're talking about the G.O.A.T. in Reyes. He pointed his cue to exactly where he wanted the cue ball to end up, before playing the shot perfectly. He then had a slight angle on the 2 and nudged the 7 into less dangerous territory.

Though he'd go on to lose the rack, Reyes won the next three, before taking the title — his second overall and what would be the first of four straight victories in Louisville. Now, you'll be all set when Alex Trebek offers this answer as a Daily Double.
(Video clip provided by
Accu-Stats Video Productions
.)
(Check out Accu-Stats' full library of great shots and amazing matches at www.accu-stats.com)