Player: Mika Immonen
Event: 2008 U.S. Open 9-Ball Championship
Date: Oct. 25, 2008
Sometimes the key shot is the one right before the final 9 ball, and sometimes the key shot is way back in the second frame of a race-to-13 when you need to make a statement to your opponent. Mika Immonen put an exclamation point on that second-rack statement in the final of the 2008 U.S. Open 9-Ball Championship.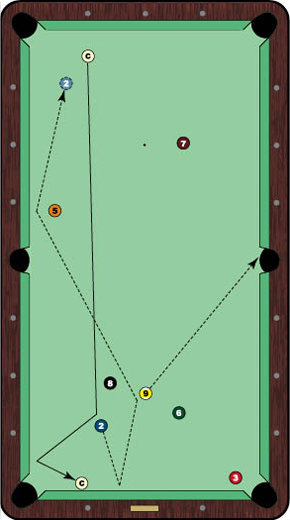 Opponent Ronnine Alcano had dismissed Immonen in the hot-seat match by a score of 11-6. Immonen, who had been playing lights-out up until that match, never felt comfortable at the table and had few opportunities to let out his stroke. But after squeaking by Warren Kiamco, 11-9, in the losers-bracket final, Immonen cleared his mind and prepared to get the upper hand on Alcano in their rematch.
He saw the opportunity in the second rack. He played a pushout after the break that left a portion of the 2 ball open but with no clear pocket. Alcano ceded the shot back to Immonen.
Immonen designed a safety on the 2 ball with an offensive component, banking it downtable so it would clip the 9. The 9 ball dropped into the side pocket, prompting a jubilant shout and fist-pump from Immonen, as well as a bit of psychological warfare.
"That really pumped my confidence," Immonen said. "It's not a very high-percentage shot, but when it happens exactly the way you visualize it, you feel in tune with your instincts.
"Then I let him know that I was pumped, because I was for-real pumped, and it was a natural reaction from me to clench my fist."
The shot had the desired effect. Alcano lost his focus, and Immonen took a 10-2 lead. He eventually won the title, 13-7.
(Check out Accu-Stats' full library of great shots and amazing matches at www.accu-stats.com)