1984 Women's World 9-Ball Championship . July 17, 1984 . Somerset, N.J.
Nineteen years old and two semesters into college, Loree Jon Ogonowski (not Jones, yet) decided to walk away from school to pursue pool full time. And it only took a few months for the former communications major to send a message to the WPBA.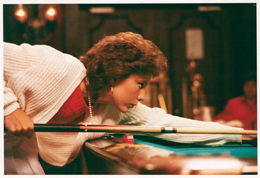 Loree Jon finally outshot Balukas on a big stage.
Ogonowski was talented; that was no secret. At 15, she won the 1981 WPBA World Open, a prestigious 14.1 tournament. The only thing missing from that - her first major victory - was Jean Balukas, the undisputed queen of women's pool.
Ogonowski played runner-up to Balukas in the same event the next two years, apparently unable to outdo her idol. The two were close away from the table, with an obvious teacher-student dynamic to their friendship. But at the table, Balukas repeatedly taught the 19-year-old some harsh lessons.
At the 1984 Women's World Open 9-Ball Championship, just more than a month after leaving school, Ogonowski finally beat Balukas in a final.
In the race-to-11 championship match, Balukas grabbed a 7-4 lead and looked in complete control. But that's where her bullying ended. Ogonowski took the next six racks to get on the hill, 10-7.
Of course Balukas took the next three, forcing a do-or-die set, but Ogonowski got the break she needed when Balukas jarred a 5 ball. Visibly ecstatic, Ogonowski jumped up to the table and cleared the final five balls for the win.
"It was by far the biggest win I've ever had," she said. "Even bigger than the World Open in '81, because I beat one of the greatest players, if not the greatest."
Notching her first big victory over Balukas, Ogonowski knew it was important to just get that first one.
"Having to beat Jean in a tournament is the toughest challenge you can have," she said.
But as Loree Jon's illustrious career shows, she might have been right to ditch school.