2003 WPBA U.S. Open 9-Ball Championship . Sept. 14, 2003 . Albuquerque, N.M.
Long before Ga Young Kim and Karen Corr were jostling for position at the high end of the WPBA rankings, the two met in one of the most thrilling final matches in the history of the Classic Tour.
Playing in just her third WPBA event and unranked at the time, Kim had her way with all her opponents - until Corr. The 20-year-old Tour newbie lost a hill-hill hot-seat match, then snatched defeat from the jaws of victory in the case game of an unnerving final that even shook the veteran Corr.
(Click above to view the last rack of the match
Footage courtesy of ESPN Enterprises Inc.)
At 6-6, Kim looked on her way to a fairly routine runout, just two balls away from her first WPBA title. Lining up her shot on the 8, which was just inches off the rail, Kim never chalked up. She miscued, but didn't leave Corr with much of an angle on the 8. Amazingly enough, Corr missed the shot, leaving Kim a shot almost identical to the one she had just missed.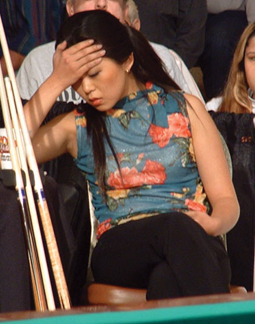 Kim couldn't watch the 9 drop.
This time she nailed it, causing the 350 spectators to explode in a standing ovation. The impossible was about to happen: The WPBA was going to have an upset winner to unsettle the unchecked domination of Corr and Allison Fisher.
Only the rowdy reaction from the crowd just frayed Kim's nerves that much more. With the cue ball inches from the side pocket and the 9 on the foot spot, Kim bounced the game winner off the side of the corner pocket.
Corr cleaned up the near hanger for the win, taking nearly a minute to line up the final 9. She then turned to Kim and gave the dejected rookie a consolatory hug. "What do you do in that situation?" Corr said after the match. "I felt bad, you know. It's not like you've really won it."
Amazingly enough, Kim was able to put her performance in perspective immediately.
"Maybe today I'm feeling not that good, but I got second," she said. "It's good, right?"