1992 Legends of One-Pocket III . Jan. 25, 1992 . Columbia, S.C.
In his first final at a major professional tournament, Shannon "The Cannon" Daulton didn't carry a boatload of one-hole titles like the rest of the field at the 1992 Legends of One-Pocket III. Heck, the 19-year-old barely carried a razor.
But inexperience and baby-face aside, Daulton showed he belonged among the legends - including "Bugs" Rucker, "Strawberry" Brooks and Steve Mizerak. In one of the greatest upsets in our collection of the top 30 finals of the past three decades, Daulton squeezed past Mizerak on the last ball in a hill-hill final, capping a thrilling run through a field of legendary one-holers.
(Click above to view the end of the last rack of the match
Video provided by Accu-Stats Video Productions)
"I beat a lot of good players in that tournament," Daulton said, recently reminiscing about his first big title won in Columbia, S.C. "But I was nervous, there was no doubt about that. It was a packed house, and the pressure was immense."
A game usually reserved for the most experienced players around, one-pocket was long the preferred discipline of the teenaged cueist savant. When he grappled with the mighty Miz, Daulton already had six or seven years of experience playing one-pocket in cash games.
"I think I have to give credit to my gambling," he said. "I was playing good players when I was 12 and 13. I didn't have tournament experience, but I had some experience. You got to get it one way or another."
In the final, Daulton got it all right, if not right away. The race-to-5 for the $7,000 first prize started as a nightmare for the young gun, as Mizerak took the first three racks. Daulton, nervous but not intimidated, fought his way back into the match. He took the next four games to climb on the hill, 4-3, while more-seasoned pros and spectators mixed adjectives like "careless" and "imaginative."
Mizerak knotted the match at four games apiece, forcing a decisive ninth rack. Daulton built a 5-3 lead in balls, but then erred on a cross-side bank, letting the cue ball drift into the side pocket. Mizerak took advantage, sinking four balls for a 7-4 advantage.
Both players tried to gently roll the final balls into favorable position, and Daulton began to gain a slight tactical advantage. He herded three balls into his pocket, leaving just one ball - the 7, sitting alone on the cloth to decide the tournament.
The two exchanged safeties, then Mizerak missed a two-rail bank, followed by more safeties. Ten shots after Daulton's first try at the lonely 7 ball, Mizerak missed another two-rail attempt. The table was set for Daulton - a look at the championship-winning shot, the length of the table with a slight angle.
Daulton tilted his head back, took a deep breath, then got down on the shot. Two quick practice strokes, and whitey was in motion, perfectly knocking the title-clinching ball into the corner pocket.
A bit out of place among the senior members of the Legends of One-Pocket field, Daulton was surrounded by a half dozen pool idols-turned-colleagues - Mizerak among them.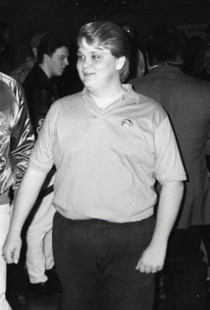 Daulton waltzed through the crowd with ease after the nail-biting finish.
"He just congratulated me and said that it was amazing to play like that as a young guy," Daulton said. "At that time, the guys who won one-pocket tournaments were all 40 or older."
Now just a few years from 40 himself, Daulton still cherishes that first win - so much so that the big shiny trophy now sits in his living room.
"It's a little shaken up," Daulton said about his first piece of professional hardware. "But it's still tremendously nice. I still get a lot of questions about that match from people and that tickles me."
Sixteen years later, Daulton is still proud of the unexpected accomplishment.
"That one had to be one of the biggest shockers to anyone in the world of pool, myself included," he said.