Hereís a great little drill for all levels.

One thing Iíve noticed during the worldwide quarantine is that players with access to a table, amateurs and pros, have been enjoying the challenge of drills. With just you and a table, itís difficult to stay focused and motivated simply throwing balls on the table. Doing drills offers a challenge and forces you to really stay mentally sharp even when playing alone.

Here is a nice 9-ball one-pocket drill for all levels. The rules are simple: Start with ball in hand, pocket the balls in numerical order into one pocket and the cue ball canít contact another ball.

This is an excellent drill for learning to play in tight spaces. It requires really good touch, and staying on the right side of the ball is essential. Itís also a very good drill to assess table speed and knowledge of the rails.

Set up the balls as shown and start with the 1 ball using draw and a touch of left English. With the 2 ball you have a little more room to let your stroke out. The deeper you go into the drill, the more you can start using normal strokes to get above each ball. Thatís the way to keep the drill easy. Donít worry if you get straight on a ball. That just means youíve got to test yourself and be a little more creative. Remember, nobody has a perfect cue ball, so donít punish yourself too much. Figuring out the puzzle in front of you forces you to use some imagination, gaining important knowledge in the process.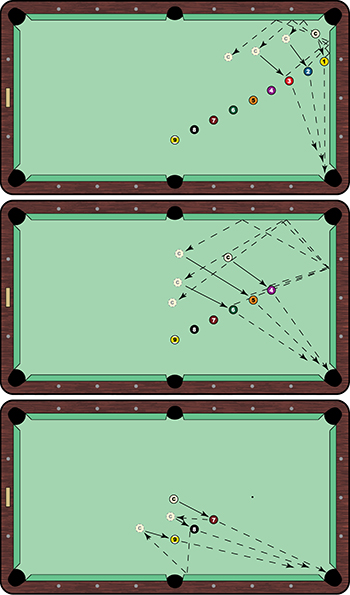 The tricky shot in this drill is the 8 ball or going from the 7 to the 8. I got on the wrong side of the 8 in my attempt, but worked through it. It can be a little frustrating, but making progress is the key. Create personal goals and the drill will keep you wanting to try again and again. If you only make it to the 4, 5 or 6, keep trying to reach the next ball.

This drill will really improve your cue ball control and will help you immensely when you return to real-time games.

Visit my YouTube page to see how I completed the drill.