This 10-ball drill puts a premium on cue ball speed and patterns.

Here is a nice pattern drill that makes you focus on cue ball speed and staying on the right side of the object ball. It is an easy drill to set up, and pocketing the balls is the simple part. This will help you concentrate on patterns and using the rails to get your cue ball into place. Like I always say, if you have a good cue ball, the game is easy.

The rules are pretty simple: Starting with cue ball in hand, run the balls in rotation. You are not allowed to bump another ball. You can pocket the 10 ball in any pocket. I would advise that you try to use at least one rail to work on your pattern play.

For players with a FargoRate above 500, the drill gets tougher. Start with the cue ball on the dot, as shown in Diagram One. The cue ball must contact at least two rails. Also, odd-numbered balls must be made in the bottom left and even-numbered balls in the bottom right, including the 10 ball.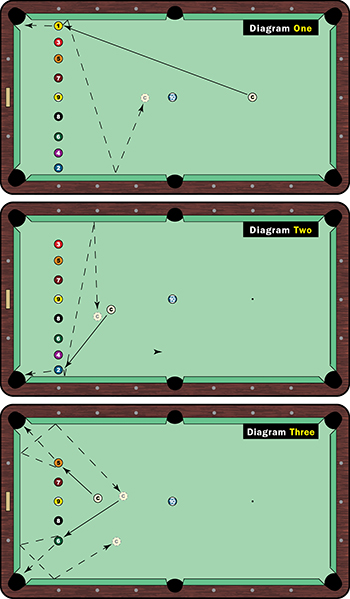 This is how I would play this drill:

Use bottom right on the 1 ball and come across two rails, leaving a nice angle on the 2 ball. I use both long rails on this shot (Diagraam One).

The same with the 2 ball (Diagram Two), only a tip of left English and just below center. I would also use both long rails on the 3 ball and 4 ball, using follow and alternating a tip of left and right English, respectively.

For the 5-9 (Diagram Three), play off the short and long rail. Again, alternating a tip of right for the odd-numbered balls and a tip of left English on the even-numbered balls.

On the 9, you will need to hit the ball firm to gain position on the 10 ball. Strike the cue ball just below center with a tip of left and punch the ball in.

This drill looks easy but it will definitely keep you busy. Donít get discouraged if you canít complete the drill right away. Always try to beat your best score. As you get more consistent, it will definitely help you in competition because your brain will be programmed.