How to play the most-talked about shot in pro pool.

I guess Iím sort of to blame for this!

When I launched the World Pool Series a few years ago, I introduced the shootout as a means of breaking ties without the cruelty of bad luck or never getting a chance at the table. In the WPS, only 10 percent of the matches went to a shootout. The new Predator Pro Billiard Series also utilizes the shootout, but it happens far more frequently. Like penalties in soccer, the PBS shootout allows both players four spot shots, followed by longer sudden death shots if the tie is unbroken.

The shootout has become a lightning rod in discussion about the PBS. There is no doubt it is exciting, but many argue that itís too frequent and renders most matches a coin flip.

However, the fact is that if you are going to participate in an event like the PBS, youíd better work on your shootout technique.

Iíve watched many players in the shootout, and the percentage of those who prefer stun draw and those who prefer follow is evenly split. Some play the shot with a little outside English and some no English (for straight follow shots). Iíve even seen players slow roll the ball, which I find bizarre because you must rely on solid nerves and a level table.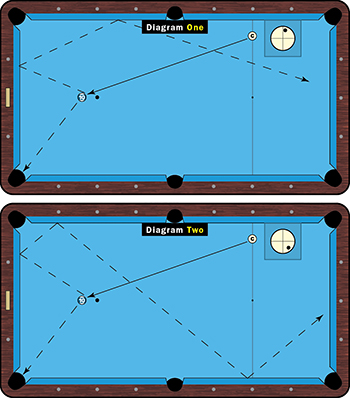 Cue ball placement is also a mixed bag. Some players prefer to have their bridge hand on the rail with the cue ball close to the rail to minimize the cut angle. Others, like me, prefer a half diamond in from the rail so that they can get their entire bridge hand on the table. Some place the cue ball a diamond in from the rail and just play straight follow with no English.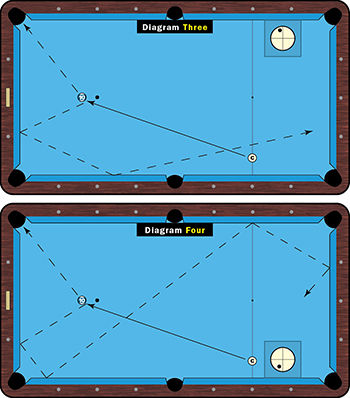 The answer, of course, is to play the shot in whatever way allows you the most comfort and confidence. As for aiming systems, I just use the ghost ball and practice the shot to death. Iíll practice the same shot to each corner over and over, until eventually your muscle memory will see the line and the contact point. Then itís all about execution, which is difficult because of the pressure.

My advice would be to be absolutely consistent with cue ball placement and committed to playing the shot with follow or stun draw. Choose one and work hard at it. And in the end, itís a great practice drill on its own for your mechanics and cuing. Rotating sides makes it more easily missed, particularly when the cue ball is moved farther back for the sudden death shots.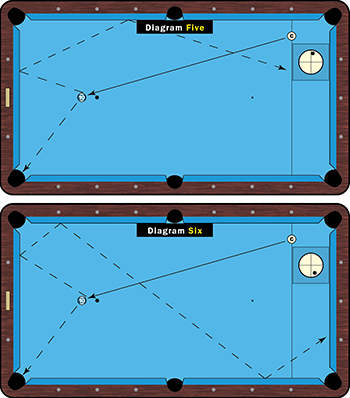 Personally, I play with follow if I feel Iím in decent stroke, with a touch of outside English and medium speed (Diagrams One, Three, Five and Seven). If Iím not as confident in my stroke, Iím not afraid to change to stun draw because then I get to let my stroke out a little more and I donít feel as much pressure (Diagrams Two, Four, Six and Eight).




The shootout appears to be here to stay, so itís something I plan to work on even more in the coming year. And if it becomes more accepted and enjoyed, other promoters may add it to their formats. It may even reach regional and amateur events, so itís something all players should work on.